Top 10 Personal CRM Apps in 2023 to Up Your Networking Game
There's a lot new in the world of personal relationship management and personal CRMs. We've tested them all to find the best options for what you should try in 2023.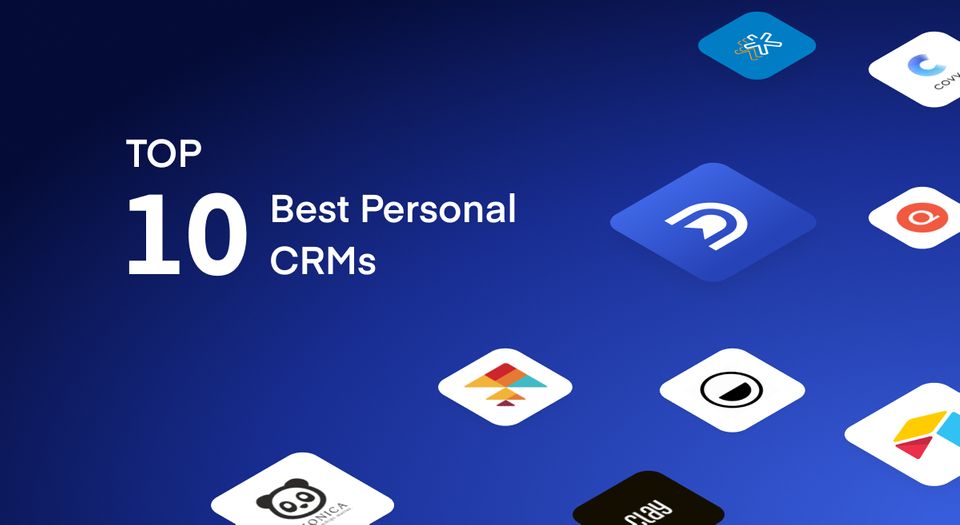 There's a lot new in the world of personal relationship management and personal CRM. Much has changed in the last year, from new products and features, to products that no longer exist.
In the quest to find the best personal CRM, we've tested them all to evaluate the best option for 2023. We look at the best tools for personal contact management systems, both free and paid, and break down which solutions you should try first.
What Is A Personal CRM?
A personal CRM helps individuals manage their personal and professional networks through notes, reminders, and integrations. Personal CRMs often combine the functionalities of an address book, calendar, map, and database to allow users to manage their network more effectively.
CRM stands for customer relationship management. Businesses have relied on these systems for decades to keep track of customer and client information. Over the years, there's also been an increased desire and need to use software and systems to manage personal relationships.  
With relationship context scattered across LinkedIn, Facebook, Email, Calendar, and your phone, managing your personal network can be a headache. Most sales focused CRMs are too complex for the needs of individuals. As a result, solopreneurs,  freelancers, MBA students, and more have looked for a personal CRM that can present a more tailored, simple experience for managing personal networks.
You may not realize it, but most people already use some type of system to manage their relationships: the standard contacts app on their phone. This is either Google Contacts iCloud contacts. These contact apps don't do much beyond just saving a person's details and are super manual – it's not uncommon for these apps to feel outdated in this day and age.
Social networks also have different objectives than managing relationships – optimizing for engagement over quality connection. Moreover, not everyone uses the same social networks. Hence a dedicated tool that combines contact details from various sources and keeps them up to date is more relevant than ever.
Why use a personal CRM?
The key benefits of using a personal CRM, or personal relationship manager, are organization, knowledge, and improved thoughtfulness with the people you care about. In particular, these systems help you:
Understand who you know by consolidating all relevant information about a person in one place. With a centralized location, you get a comprehensive overview of your personal and professional relationships. You can store details like contact information, professional background, interests, and more, making it easier to remember how you're connected.
Leverage your network more effectively by providing visibility on who can be most helpful in your network. For example, by showing you which designers are in your network based in New York will allow you to understand just that.
Save time by integrating with existing tools like your email, calendar or social media networks.  With all the context in one place, you won't have to switch between multiple apps to remember the last time you contacted sometime – saving you effort you could otherwise spend reaching out.
Never forget important events, like birthdays, anniversaries, and more with reminders. With reminders, you can ensure that you never forget to reach out to the people you care about, helping you maintain strong relationships. And by being thoughtful and proactive, you'll be able to nurture your relationships and make sure that the people you care about feel appreciated.
With such clear benefit, it should be no surprise that there are many relationships management apps out there. We know it can be difficult to pick the right one, so we've tried them all.
Top 10 Personal CRM Apps 2023
Our evaluation of personal CRM includes three main dimensions:
Availability: The best personal CRM will be the one you actually use, so integrations and the ability to fit within your workflow will be crucial. Personal CRMs are typically available online and can be accessed from any device with internet access. This makes it easy to manage your relationships and contacts on-the-go, whether you're at home, at work, or traveling. Some personal CRMs also offer mobile apps for even greater accessibility. When choosing a personal CRM, it's important to consider the availability and accessibility of the platform to make sure it fits your needs.
User-Friendliness: Most CRMs built for sales teams are overly complex.  In evaluating tools for personal use, it's crucial that the CRM is streamlined enough for individual use. A user-friendly personal CRM should have an intuitive interface, clear navigation, and customizable features that match your workflow. In addition, the personal CRM you choose should also offer helpful tutorials and support/onboarding resources to help you get started and optimize your use of the platform.
Cost: Lastly, the cost of a personal CRM is especially important for the individual use case. For most individuals, personal CRMs don't have immediate business benefits, and most individuals won't be able to pay the thousands of dollars sales CRMs can charge to a team. Generally, cost for personal CRM varies depending on the features and capabilities of the platform. When evaluating the cost of a personal CRM, it's important to consider the value you're getting for your money and whether the cost fits your budget. If you're looking for a more advanced platform or have a job where relationships are central, it may be worth investing in a paid option that provides additional features and capabilities.
With these three dimensions in mind, our evaluation of personal CRM is as follows:
Availability
User friendliness
Cost
Name
Android
iOS
Web
Desktop
Integra-
tions
Features
User interface
Free version
Paid tier
1
Dex
✓
✓
✓
✓
★★★★★
★★★★★
★★★★★
✓
$12
2
Clay
X
✓
✓
✓
★★★★★
★★★★
★★★★★
✓
$10
3
Monica
X
X
✓
X
★
★★
★★
✓
$7
4
Covve
✓
✓
X
X
★★
★★★
★★★★
✓
$10
5
Queue
X
✓
X
X
★★
★★★
★★★
X
$7
6
Nimble
✓
✓
✓
X
★★
★★★
★★
X
$25
7
Cloze
✓
✓
✓
X
★★★
★★★
★★
X
$17
8
Folk
X
X
✓
X
★★
★★★★
★★★★
✓
$14
9
Airtable
✓
✓
✓
✓
★
★
★★
✓
$10
10
Notion
✓
✓
✓
✓
★
★
★★
✓
$8
Dex is considered by many as one of the best personal CRM systems in the market thanks to its comprehensive set of integrations and data management features.
The main focus of this Dex is helping people nurture personal and professional relationships. After importing from various social networks, including LinkedIn and Facebook, its interface allows you to deduplicate and quickly sort your contacts by their importance. You also get reminder notifications to help you remember who to get in touch with.
Dex is a workflow-centric tool for anyone wanting to deepen their networks which are both professional and personal in nature. For example, the Dex browser extension integrates with many different platforms, from Gmail to Instagram and Twitter.  
For most users, Dex operates as a system of record: combining all the data about how you first met someone and your relationship history with them. The key selling point of Dex is its ability to help a user keep-in-touch: it has a built-in kanban board to help you visualize your contacts according to keep-in-touch frequency.
Advantages:
Powerful automatic sync features with social media, email, and calendar, showing all your events and notes organized in a timeline.
The best tool for LinkedIn power users, with its browser extension and notifications of connection title changes.
Available for Web, Desktop, iOS, and Android
Intuitive and simple user interface
Mapping functionality and ability to save filters that make it easy to visualize, locate, and leverage your network
Disadvantages:
Built for personal use, lacks dedicated features for sales and marketing or team-based collaboration
No integration with SMS/iMessage
Pricing:
Dex offers a basic version for free which supports unlimited contacts. The premium tier with advanced LinkedIn, calendar, and email integration comes for $12 a month, paid annually ($20 paid monthly).
Clay is another true personal relationship manager, first launched in 2018. It made a splash with its beautiful dark landing page and invite-only signup waitlist.
The platforms syncs with a variety of tools like LinkedIn, Twitter, and iMessage make it easy to stay up to date. It's the only tool on the list that keeps track of Twitter bio changes - making it a top pick for Twitter power users.
Once set up, Clay gives you daily recommendations with whom to reconnect. You can choose how often to keep in touch with each of your contacts. Or you can use Clay's neat feature of setting an automatic cadence, where its algorithm decides when it's time to reconnect with someone.
Moreover, Clay also has the calendar and social media integration to make your contacts more thorough. It can take contact information from your phone and find that person on all the social media platforms they are on. So, you don't need to input too much info to build your contact base manually. And the app has helpful lightweight widgets to give reminders.
One thing to note, Clay is mainly built for the iOS operating system on iPhone and MacBook. There is no Android app and version for Windows available at this point.
Advantages:
Sophisticated Twitter synchronization, keeping track of your contact's Twitter bio changes
Elegant modern user interface, including a dark mode
Integration with iMessage
Disadvantages:
Limited functionality to visualize your network, no map view or filter views
Lacks browser extension to import contacts from social media
No Android app or desktop version available, primarily built for mac and iOS users
Pricing:
Generous free plan; and a pro plan, which includes advanced search features and an onboarding call for $10 a month paid annually ($20 paid monthly).
Monica is the definition of a custom-built personalized CRM and the only open-source CRM on the list. The system is focused primarily on personal relationships and does not have many features for business functions.
Monica is an open-source app.  One of the more compelling reasons to use Monica is that it's free if you host it yourself.  Self-hosting is generally only an option for the technically inclined. For the less familiar with hosting software systems, a paid cloud-hosted version is also available.
Monica lets you keep all the essential information for each contact. The essentials include: birthdays, work, mutuals, pets, past activities, and gifts. You can keep track of all the gifts you gave one person so you can pick something new. There's also a section that lets you record the debts you owe.
Advantages:
Free and secure if self-hosted
Open source, you can customize it if you have the technical knowledge, and/or contribute to the project
Disadvantages:
No mobile versions available, limited to web
Requires a lot of manual data entry and upkeep
Integrations with other tools are limited
Hasn't been actively developed (new features) for a while
Pricing:
Monica is free if you host it yourself. Otherwise, it costs $9/month or $9o/year.
Covve is one of the more sleek mobile CRM apps on this list. It leans more towards business and professional relations rather than personal ones, with a main selling point of bundling several tools (like business card scanning) for successful networking. Despite it's focus on professional networking, its only available as a mobile app.
The heavy emphasis on professional networking does not make it unsuitable for personal use, though. You can balance both sides with this app, as it remains much less complex than most sales or teams CRM systems. Covve gives periodic reminders to let you know when you should get in touch with someone. This way, you will never miss any potential leads or special events.
A unique feature of Covve is that it automatically scrapes the web for articles mentioning your contacts. This way, you will never miss an important update. Concerning data security, Covve doesn't have a good track record. In May 2020, data of 90,000 users was unfortunately leaked.
Advantages:
- Clean mobile interface with a lot of functionality
- Includes a dedicated business card scanner
- Scraps the web for news articles mentioning your contacts
Disadvantages:
- Only available for mobile
- Limited free version supporting only 20 contacts
- Lack of synchronization with LinkedIn and social media
- Checkered data security track record, 2020 leak of 90.000 users data
Pricing:
Limited free version restricted to 20 contacts, notes, and reminders. Pro version for $9.99/month paid yearly ($12.99 paid monthly).
Queue is another mobile-only personal CRM app only available on iOS created by a solo founder. Its minimalistic interface is super user-friendly. One of the best features of the Queue is its automatic calendar integration. It can set up recurring reminders directly to your Google calendar without you doing anything. This automated function helps a lot when you are too busy to organize things manually.
Queue can manage both phone and social media contacts. The simplified AI will help sort through all the contacts and select the ones you interact with the most. This way, it can build a contact list based on relevance. You might need to pick a few contacts that you probably forgot about manually.
One of the most helpful features of this app is event management. It will sort out all the birthdays and other special events in chronological order. This automated function makes life a lot easier. Queue also has a notepad option; so you can jot down relevant information about your contacts on the go.
Advantages:
Simple and elegant user interface
Easy setup by importing your phone contacts
Disadvantages:
Only available for iOS, no desktop, web, or Android support
Lacks integration or sync with social media networks / email.
Pricing:
Queue comes with a free trial, and the paid plan costs to $7.99/month ($79.99 for the whole year).
Nimble CRM is a cloud-based contact management system. Most CRM apps on this list require a lot of manual input, but Nimble is known for its data automation capabilities.
Nimble can integrate with Gmail, LinkedIn, Outlook, and vCard. You can also import data from any CSV file. And Nimble has a specialized task panel for daily work schedules. You can add or remove events from there as you want. The app will also alert you before events. Nimble is also good at segmenting personal and professional relationships.
Also, the contact search system is a feature unique to Nimble. It can help you search for specific contacts from your phone or third-party sources. You have the option to search by date of birth, education, field of work, company, or even interests. However, the extra sales functionality can be a bit of a distraction for users looking for a personal CRM tool.
Advantages:
Feature-rich and integration with Office 365
Allows you to manage sales processes, track your teams' activity, and send batch emails
Chrome extension 'Nimble Prospector' helps you to import contacts from LinkedIn
Disadvantages:
Busy interface overwhelming for personal use cases
Rather expensive and no free version available
Pricing:
Nimble doesn't have a free version but offers a 14 days trial. Afterward, it costs $24.90/month paid yearly (or $29.90 billed yearly)
As the name already hints, Cloze is intended for business use but is also suited to manage your personal network. It has all the features that one would expect from a personal CRM tool; and more. This includes an integrated email inbox, email template library, and project tracker to check the status of campaigns.
Importing contacts from a majority of platforms to Cloze is a straightforward process. And it integrates with the most common email and social media software, speeding up the overall workflow. Moreover, they have an intelligent algorithm that helps you manage your relationships and email inboxes.
The user interface is good but less appealing compared to the previous picks. Moreover, the extra capabilities for business use might be a bit overwhelming for users that seek out a sole personal CRM product. Finally, there is no free option, and the subscription is rather expensive.
Advantages:
Business grade email and integration of Office 365
Optimized for marketing and sales processes, includes email templates
Disadvantages:
Not built for personal use, the number of features can be overwhelming
Outdated user interface, and no integrations with social media
Expensive, no free plan available
Pricing:
Cloze has a 14 day free trial. The subscription plans start at $17/month and range up to $49.99/month for extra features.
Clearly inspired by the design of Notion, folk is a CRM company based in Paris, France. Folk is highly customizable and can easily be integrated with other tools. You can directly import your contacts from Gmail, LinkedIn, Google contacts, and more.
The workspace inside folk can be adapted for different use cases, which makes it great for someone who prefers to set up their own processes. For example, it can be used to build different sales workflows, send batch emails, or as a personal CRM manager. Moreover, the team at folk has put together a large set of templates that can be modified.
Advantages:
Similar clean user interface to Notion
Supports team functionality working on one database
Handy chrome extension (folkX) enables importing of contacts from social media
Supports sales processes like sending batch emails
Disadvantages:
No mobile app available, only available for web
More useful for teams and sales processes
Limited free tier, only 10 contact enrichments, and 100 contacts
No unlimited contact enrichments in paid plans
Pricing:
Folk has a free plan. However, it is pretty limited, with a maximum of 100 contacts and 100 messages. To manage more you have the get either the standard plan for $14/month or $29/month per member paid annually. Both paid tiers include unlimited contacts but contact enrichments (100/500) and messages (500/2000) are still capped.
Airtable is a controversial pick on this list. It's an incredibly powerful tool with many customization options, but it also relies heavily on manual input. And while you get tremendous flexibility and power with Airtable, you'll need to provide a lot of manual input for it to work.
We know some people might balk at its non-automated nature. But its redeeming quality is that it is one of the least opinionated CRM apps, so it's suitable for the more unusual or specific use cases. It also has a lot of flexibility in terms of overall usage. You can set it up as a fully professional tool or a fully personal one. There are plenty of options in between too.
Aside from being a CRM, it can serve as a powerful data visualization tool. It can help you organize all your contact data in charts, 3d models, and other formats. It gives the user full control over the template. You can also switch between different gallery, grid, or kanban views.
Lastly, Airtable also brings excellent app integration features too. The only downside is that it requires a lot of manual tinkering to reach the optimal form. The basic templates are somewhat mediocre. You can even go as far as to say that it is a glorified Excel app.
Advantages:
High customizability and team functionality
Free plan with 1.200 records is enough for most people
Disadvantages:
Considerable manual input and upkeep is required
Lacks automated sync with social media platforms
Time intensive to setup, and not primarily a personal CRM tool
Pricing:
Airtable has a generous free plan that allows up to creators and 1.200 records. The paid plans with more features start at $10 per month (paid annually).
Notion is another great choice for a relationship management tool, with the similar flexibility and power of Airtable. It brings a myriad of different options for managing contacts and also allows you to customize your system exactly as you see fit.
Notion can help you track all sorts of events related to your friends, family, and co-workers. You won't ever be out of context when meeting an old friend. That is why it's a handy tool for people who want to organize their life. However, you need to use Google Calendar side by side to set recurring date reminders for birthdays though.
This app also gives the user free rein to build different templates. At the start, Notion comes with a few standard templates that fit most people, but you can always change it up to make it suit your needs. The Notion app also has marketing templates to facilitate both large and small businesses.
Advantages:
A high level of customizability
Intuive user interface that makes it easy to add notes,
Integrate into some existing workflows
Free version sufficient for most personal use cases
Disadvantages:
No option to import contacts from LinkedIn, Facebook, and other social media networks
A lot of manual upkeep required, and very limited reminder functionality
Pricing:
Feature-rich free plan more than enough for most users. The paid plans start at $8 per month (paid annually).
Honorable mentions: Shut-down personal CRMs
Personal CRM is not a new category, many past companies have also tried building tools in the space. Here, we mention a few of the more recent products that have either been discontinued or have significantly changed course:
Conclusion
Personal CRM tools have been shown to be incredibly useful in creating and maintaining your personal and professional relationships. By using a system to manage your relationships, networking is a process that becomes systematic and repeatable, providing a clear source of personal fufillment and professional opportunities.
In this article, we've covered the personal CRMs that we believe you should try in 2022. If you're still reading, know that the best personal CRM is the one you'll actually use.  Our recommendations are as follows:
If you're looking to adopt a tool for your team and have employees working full-time on maintaining your CRM, we believe Airtable and folk offer the best tradeoff between power and value.
Best for sales processes: Nimble or Cloze
If you're looking to adopt a CRM (that isn't a clear incumbent like Hubspot and Salesforce), Nimble and Cloze are both feature-rich alternatives worth a try.
Best minimalistic iOS app: Queue
For those looking for something simple, who just want to be reminded to keep-in-touch, Queue is the best tool for the job. The simplicity (and focus) of its product experience on the individual is unmatched.
Best for Twitter power users on iOS: Clay
For users on iOS, Clay offers a beautiful tool that integrates more closely with Twitter than any other tool on the market.
Best for most people + networking on LinkedIn: Dex
For users who end up managing a broad LinkedIn network or who need to manage relationships for professional purposes, Dex is a clear winner.  With its LinkedIn title change notifications, mapping, and saved filters, Dex helps anyone build stronger relationships.
Each personal CRM is different, and selecting the right one that fits your specific needs is crucial. We hope the guide above was useful in helping you consider which personal CRM is the right for you and has all the features you need. To get started on our top pick for most people, try Dex for free today.