Personal CRM in 2020: 20+ startups, apps, and failed attempts
Personal CRM — relationship management software for consumers — is not a new category. Early versions of Microsoft's Cardfile date back to 1985. This article details the current landscape of personal relationship management software.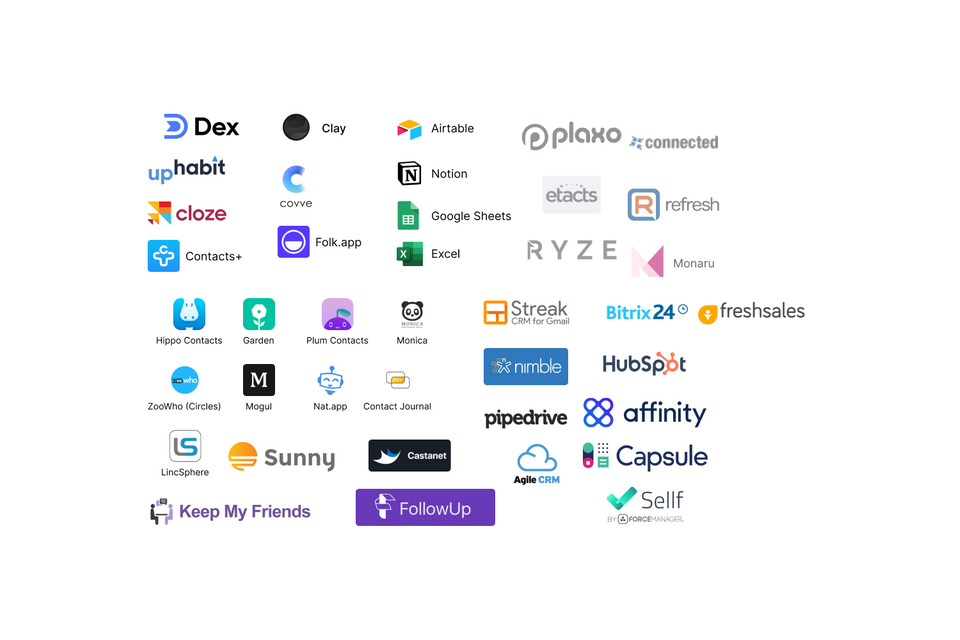 Personal CRM — relationship management software for consumers — is not a new category.  Early versions of Microsoft's Cardfile date back to 1985. Broadly defined, 'personal CRM' helps individuals build out their professional and personal networks. We attribute the term to individuals repurposing sales customer-relationship management (CRM) software such as Hubspot to manage their personal networks; creating "Personal CRM." Phrases like "Social CRM" have been used to describe relationship management software for individuals since 2011.
This article details the current landscape of personal relationship management software.
Overview
Personal CRM solutions in 2020 have a variety of target audience and key feature differentiators. At Dex, we've segmented product offerings along four different categories:
Venture-backed startups
Single-developer projects
Data tools
Sales CRM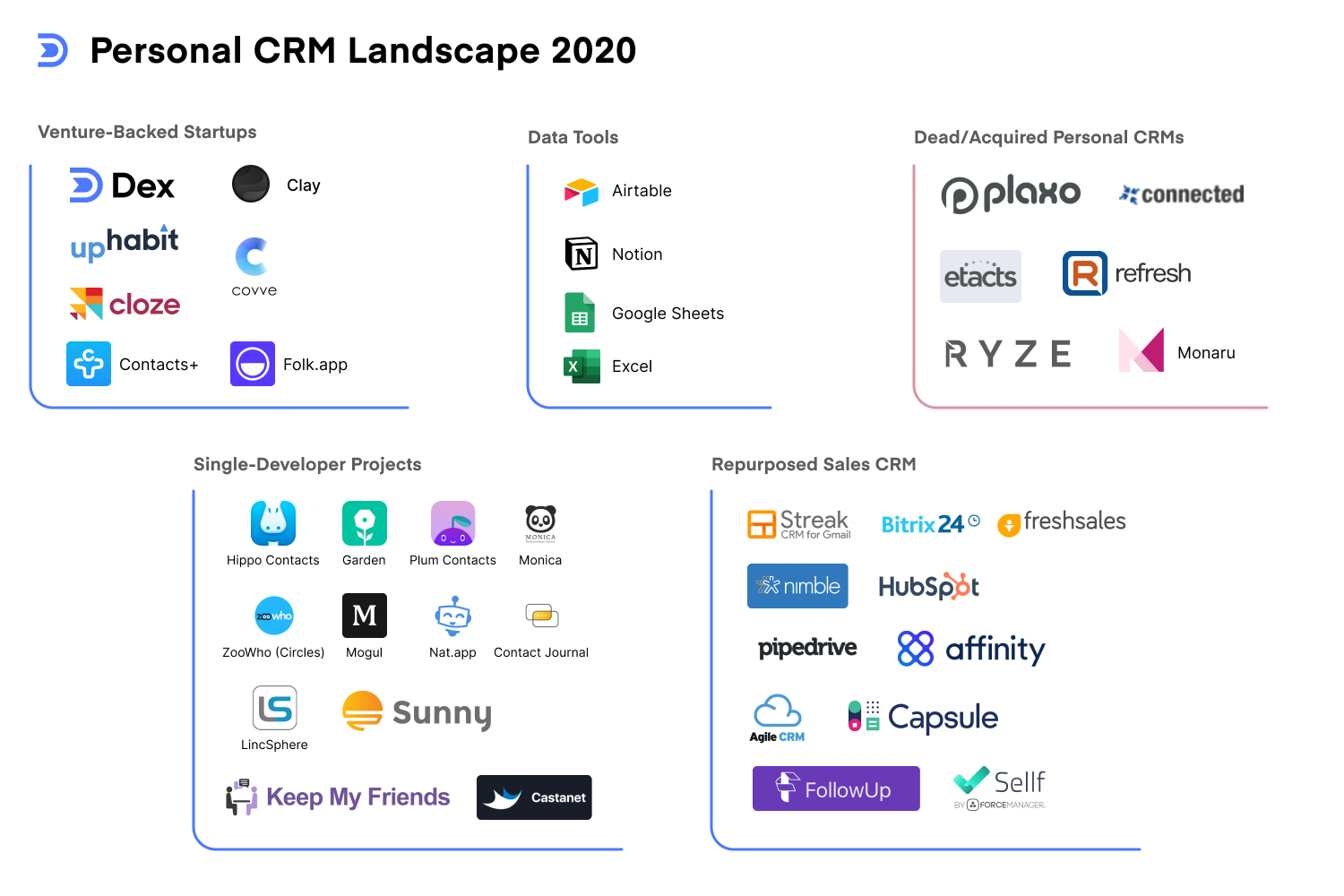 Venture-backed startups
Current startups
Recent years have seen a handful of startups enter the Personal CRM space and grow in popularity. These new wave of startups generally include integrations and a focus on user experience and product-led distribution.
| Company | Founded | Investors | Price | Description |
| --- | --- | --- | --- | --- |
| Dex | 2019 | YC, AMINO, Tapas Capital, ESO Fund, Angel Investors | Standard: Free; Premium: $9.99/mo | Focused on helping individuals "build stronger relationships." Started as a Chrome extension and now includes web and mobile apps. |
| UpHabit | 2019 | Private Investment | Personal: Free; Pro: $29.99/yr | A mobile-focused Personal CRM to help users "build more authentic relationships". Recently entered beta for MacOS and web. |
| Clay | 2019 | Chapter One Ventures, Notation Capital | $14.99/month | Clay is a note-taking focused mobile app that helps individuals remember people and things about them. Currently Clay is waitlist only. |
| Cloze | 2012 | Greylock Partners, Kepha Partners, NextView Ventures | Pro: $20/mo.; Silver: $25 PUPM. Gold: $35 PUPM. Platinum: $50 PUPM. | Software platform that lets users track email, phone calls, meetings and documents to connect and maintain business relationships. Note: now offers 3 Business plans and targets more of a Business Audience |
| Contacts+ | 2012 | Subsidiary of FullContacts (acq. Feb 2018) | Standard: Free; Premium: $10/mo; Teams: $13 PUPM | Contact management application that aggregates social interaction contacts and displays them in one place and includes a call log and dialer. |
| Covve | 2011 | ATA Ventures, Metavallon VC | Free; Premium: $7.50/mo. | Developer of an address book that helps professionals manage their network. Sync contacts from various sources and updates with relevant news sources. |
Dead/Acquired startups
Many past attempts to build products in the space have since been shut down or acquired. Etacts and ConnectedHQ are noteworthy early attempts at building tools for relationship management that were eventually acquired by Salesforce and LinkedIn respectively. Both services no longer exist and have been partially merged into features of the acquiring companies' products.
| Company | Dates | Investors | Description |
| --- | --- | --- | --- |
| Etacts (acq. Salesforce) | 2009-2011 | Y Combinator, SV Angel, TriplePoint Capital, Angel Investors | Acquired by Salesforce in 2011. The first appearance of the keep-in-touch notification to remind individuals of contacts that were slipping away |
| Connected (acq. LinkedIn) | 2010-2011 | 500 Startups, Ignition Partners, Solstice Capital, Volition Capital, Trinity Ventures | Acquired by LinkedIn. Introduced integrations with email and social media. Offered robust contact management capabilities to keep contact information synced across multiple sources. |
| Monaru | 2019-2019 | Y Combinator | Software that helped users focus on the closest 10-15 relationships. Shut down, with the team now working on Quorum. |
| Ryze Software | 2017-2019 | - | A mobile-first Personal CRM app that incorporated reminders, notes, and contact management features. |
| Refresh.io (acq. LinkedIn) | 2011 (acq. in 2015 | Foundation Capital, Redpoint, Haystack, CRV | Refresh.io surfaces insights about people in your networks right before you meet them. |
| Plaxo (acq. Comcast) | 2002-2017 | Sequoia Capital, Cisco Investments, DAG Ventures | An online address book that intended to provide automated updating of contact information to keep contact data up to date on the cloud. Acquired by Comcast in 2008 and subsequently shut down in 2017. |
Single-Developer Projects
Many apps have been created by individual developers or small part-time teams to help users with relationships. These apps are often limited to a single platform (typically iOS only) and have relatively limited feature sets with accessible pricing. As of writing there is no clear frontrunner in this segment.
| Company | Platform | Cost | Company Description |
| --- | --- | --- | --- |
| Hippo | iOS Only | $1.49/mo | Hippo helps you stay attentive. Keep track of friends, family and colleagues you care for. So next time you meet, you remember all their important details. |
| Plum Contacts | iOS Only | Free | Keep your relationships fresh |
| Monica | Web Only | $9/mo. | Open source personal CRM. Monica helps you organize the social interactions with your loved ones. Organize. Follow-up. Strengthen your relationships. |
| Social Contact Journal | iOS Only | Free | Contact Journal is an intelligent personal CRM on your phone that helps you stay in touch with family, clients, co-workers, and friends. |
| ZooWho (Circles) | iOS and Android | Free | Circles by ZooWho is the contact management app that makes it easy to keep track of all the details that make for good relationships. |
| Ntwrk | iOS and Android (beta) | Free | Better Relationships. Be a better friend, mentor, sibling, sales person, networker. Get reminded when it's time to reach out to people and what you last chatted about. |
| LincSphere | iOS Only | Free, Pro: $4.99/mo. | LincSphere helps you better organize & follow-up with your networking contacts, so as to turn them into productive relationships |
| Sunny | iOS Only | Free | Super Powered Relationship Management. |
| Keep My Friends | Web Only | $7.89/mo. | Reminding you to keep in touch with the important people in your life. |
| Garden | iOS Only | Free | Personal Relationship Manager for Friends, Family and Work |
| Circles Manager | Mobile Only | Free | Circles Manager runs on top of the existing contacts in your phone. |
| Castanet | Mobile Only | N/A | This app is designed to help remind you of those connections in regular intervals to make sure those relationships are maintained. see less |
| Mogul | Web, iOS | $5/mo. | Mogul helps you manage your network more thoughtfully in a beautifully designed website & app. Built by Aloa.co, a software development outsourcing company. |
| Nat Personal CRM | Web (beta) | Beta: $5/mo. Professional (unreleased): $25/mo. Startups (unreleased): $99/mo. | We know all the people you're losing touch with. Reconnect now! Let our AI do the work and stop losing touch with people who matter. |
Data Tools
Spreadsheets are a common entry point for people to begin creating their own personal CRM. Although setup for your own 'relationship system' can be tedious and often time-consuming, the resulting functionality is highly customizable. A new wave of data tools like Notion and Airtable prioritize user experience, offer customizable modules and integrations, and have grown in popularity.
| Company | Founded | Investors | Pricing | Description |
| --- | --- | --- | --- | --- |
| Airtable | 2012 | Thrive Capital, Benchmark, Coatue Management, Caffeinated Capital, CRV | Free, Plus: $10 PUPM; Pro: $20 PUPM | Software platform that helps users build flexible collections, checklists, and other templates in a customizable spreadsheet-like format. |
| Notion | 2012 | Index Ventures, First Round Capital, A.Capital | Personal: Free Pro: $4/mo. Team: $8 PUPM | A software tool intended to help users write, plan, and collaborate on tasks and projects. Notion combines many everyday work apps into one platform. |
| Spreadsheet (Excel, Google Sheets, etc) | - | - | - | Fully customizable to the users liking. Many individuals have found ways to track their relationships within tools such as Google Sheets and Microsoft Excel. |
SMB Sales CRM
Sales CRMs targeting small and medium-sized businesses (SMBs) have also been used by professionals to manage their own networks. These Sales CRMs generally have robust integrations and pipeline tracking—useful for professional users with large networks essential to daily business operations.
| Company | Founded | Investors | Pricing | Description |
| --- | --- | --- | --- | --- |
| Pipedrive | 2010 | Insight Partners, Bessemer Venture Partners | Essential: $25 PUPM, Advanced: $29 PUPM; Professional $59 PUPM; Enterprise: $99 PUPM | A CRM tool built to help small teams manage sales pipelines. Repurposed by many as a Personal CRM tool. |
| Nimble | 2009 | Imagen Capital Partners, GV, Microsoft ScaleUp | Business: $25 PUPM | CRM platform that integrates with Office 365 and GSuite. Updates regularly with relevant prospect and customer information. Has also been recommended as a Personal CRM tool. |
| Streak | 2011 | Floodgate Fund, Battery Ventures, Lowercase Capital | Free; Solo: $15 PUPM Pro: $49 PUPM Enterprise: $129 PUPM | Streak is a CRM tool optimized that integrates deeply with Gmail. It allows for spreadsheet and sales tracking capabilities directly in a user's email inbox. Streak is also accessible to Personal CRM users due to its intuitive software and affordable pricing options. |
| FollowUp.cc | 2007 | Acquired by Lever Technology in 2018 via LBO | Starter: $23/mo. Professional: $36/mo. Salesforce: $50/mo. | An email inbox Personal CRM tool that helps users remember to reach out to contacts and track email opening. |