Top 7 CRMs For Solopreneurs To Help You Become A One-Man Army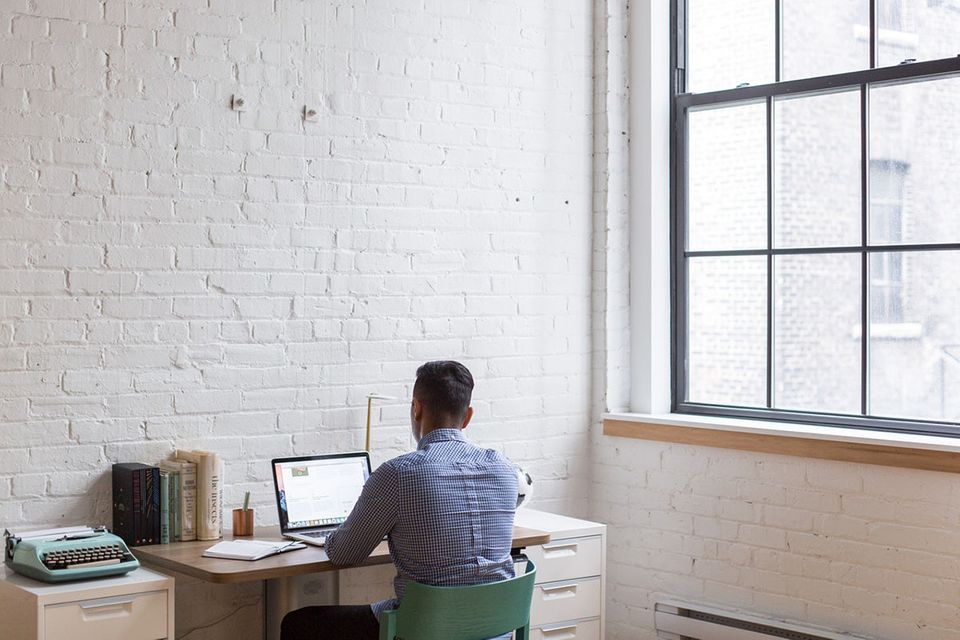 Let's be honest. Nothing can match the freedom and responsibility that comes with being self-employed. While you don't have to worry about impressing your bosses and peers, with your fate in your hands.  With your control of your own schedule, there are no more monotonous days of clicking away in front of a computer. You can work on the projects you're passionate about at your own desired time.
Although the working for yourself is exciting and satisfying, it comes with its share of responsibilities. As a solopreneur, you don't have a single job but multiple different roles to play. This makes staying organized and keeping track of your business even more important.
However, with proper customer relationship management, you can join the 41.8 million solopreneurs in the US and live the life of your choosing. Here's our list of the best customer relationship management (CRM) for solopreneurs to use and manage their businesses.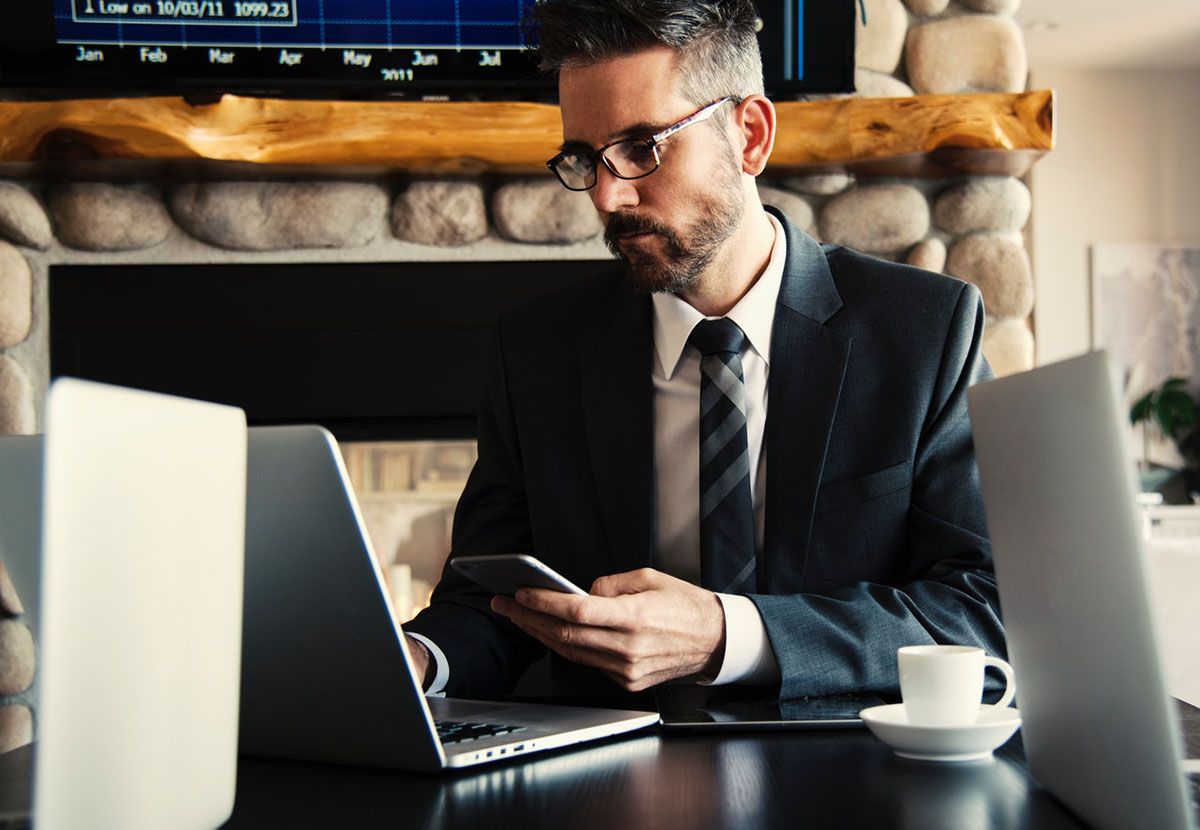 What is a Solopreneur CRM?
As a solopreneur, you're essentially wearing various hats. For example, if you're a writer turning your home-based job into a freelance business, writing is not all you'll be doing.
Instead, before you know it, you'll be juggling between pitching clients, communicating with customers, managing your finances, and even handling taxes and invoices.
This means the startup you're initially passionate about might become a set of daunting tasks in no time. Enter a life-saving customer relationship management (CRM) for solopreneurs.
CRM software is an invaluable tool that can help you manage your cusomters and  multiple business activities at the tips of your fingers. By controlling each of your tasks efficiently, you can serve your customers well and work on improving your core skills in the process.
What's more, you're not alone. More than 82% of small organizations use CRM systems to automate their sales processes.
Among common misconceptions is that CRM software is solely designed for sales teams. While CRM stands for Customer Relationship Management, recently upgraded versions can help you handle multiple aspects of your business.
If you need help to streamline your business approach and manage your tasks efficiently, read through the benefits of using CRM systems in the next section.
Benefits of Using Solopreneur CRMs
Let's say you were facing corporate injustice and a lack of growth potential at your workplace and decided to quit for good. Or, you started with your own side business to generate some extra income.
In both cases, if you're good at what you do, everything will be under control in the beginning. To manage your business, you'll probably start by creating a few Google Sheets and connecting them to your Gmail for automatic updates.
While this technique might work well for the first 5-10 clients, things will begin to feel tedious. Although the productivity of your Google Sheets will remain the same, you'll have your plate complete with the existing set of clients.
Meaning, when your business starts gaining the leverage you need, it will become difficult to acquire and manage new clients on top of your existing workload.
In this case, integrating a functional CRM that fits your business requirements will work wonders for your start-up. For those of you who think of CRM systems as an additional expense, here's a list of benefits to give your further insight.
Improve Client Relationships
Having a solopreneur CRM handle your client information will help you identify their unique needs and demands. This way, you can streamline your email and social media campaigns to keep them coming back.
Analyze Business Data
One of the best things about a solopreneur CRM is how it stores your crucial business information. Apart from saving the data, it helps you analyze the information so you can devise tailor-made strategies for each client.
For example, data analysis lets you identify which client prefers which products or was most responsive to previous interactions. You can plan further interactions and sales techniques for your clients using such insights.
Land New Opportunities
Another main benefit of a solopreneur CRM is that it helps you find and pitch new clients. This eventually builds a reputation for your business in the market and brings you new opportunities.
Similarly, once you start handling your essential business responsibilities, you can work across multiple sales channels using your personal CRM. This way, along with managing your existing client base, you can spread your business using tools like social media, websites, and other physical events.
Now that you know about the benefits of solopreneur CRMs, you're probably ready to try one out yourself. First, however, choosing the right software is crucial for the flawless operation of your business. Go through the next section for more details.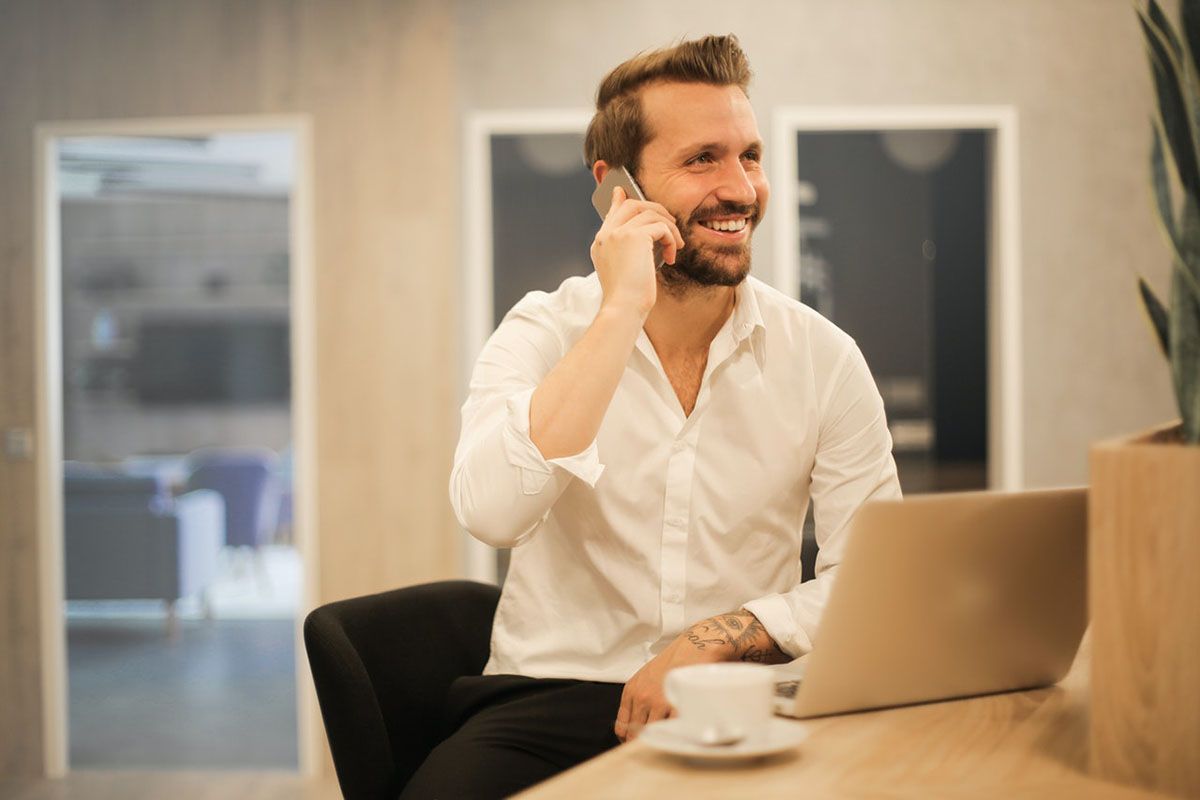 Choosing the Best CRM for Solopreneurs
Initially, CRMs were developed for large companies that needed to operate with a vast customer base.
However, recent solopreneur CRMs are specifically developed to help small organizations and freelancers track their contacts, sales operations, and marketing channels. Recently, use of CRM software by solopreneurs increased from 56% in 2020 to 74% in 2021.
But, with the long list of affordable CRMs available, it can be tricky to choose the best one for yourself. Luckily, we have compiled this list of the best CRMs to help you out.
Before we get to the list, you'll need to know the criteria we used to evaluate each potential option. This way, you can use these aspects to assess any CRM software you come across before signing up.
Here's a list of things you should look for in an ideal CRM software for solopreneurs.
Easy Integration
If you're thinking of moving your business operations to specific software, you've probably stored all your initial data somewhere else. That's why choosing a CRM with various integration options is ideal for retaining your contacts and client details.
However, easy integration can help you operate your tasks effectively in the long run. For example, if your target CRM connects directly to an accounting tool, you can easily manage your receivable amounts through it.
Preferably, you should choose a CRM that connects all your work apps. These include accounting tools, email providers, and customer relationship tools like Salesforce and Gmail.
Besides that, if a CRM does not offer your desired integrations, you should check if it can connect to no-code third-party integration systems. This way, it can connect to your work apps even if they are not a part of its default integrations.
Amazing UX
Remember, the CRM you choose will be the face of your customer relationships strategy. That's why it should provide an effortless and consistent user experience to your clients.
Besides that, no tool is a perfect fit by default. So, keep in mind to choose one with plenty of customization and adjustment options to make it the ideal solution for your business.
Accessibility
If you're already struggling to juggle multiple tasks as a solopreneur, learning to use new software can be pretty tedious. Moreover, you will also have to teach the operational process of a new CRM to your team.
So, it is best to choose one with an easy learning curve and intuitive operation process.
Additionally, your CRM should provide other accessibility options, including mobile compatibility. This will make it easier for you to monitor and assess your business operations from anywhere you like.
Similarly, with a mobile app, your teammates will be able to access your business information from any device they own from anywhere they like.
Automation
This is one of the fundamental aspects to look for in your ideal CRM software. It isn't worth signing up if it doesn't automate the manual tasks you conduct every day.
The ideal CRMM should help you automate sales pipeline organization, contact updates, and accounts notifications.
Security Measures
Once you sign up for a CRM, you trust it with all the essential information and data related to your business. In this case, you should check if your CRM has strict security policies intact.
Customer Support
Like other software, you can encounter many operational problems and technical issues while operating a CRM. The software should have a prompt, responsive, and resourceful customer support system in place.
This will help you solve any issues at once without putting a halt to your essential business operations.
Top 7 CRM for Solopreneurs
We used the points mentioned above to evaluate the most popular CRM in the market. Similarly, because freelancers need a cheap solution to automate their business processes, we've made sure to list affordable options with the most accessible features to offer.
Besides that, if you search for a suitable CRM, you will find that some perform better in specific categories than others. That's why each of the CRMs we have listed below excels in categories like ease of use, customizations, affordability, and customer service.
Go through each option's detailed overview and features below to select the right one for yourself.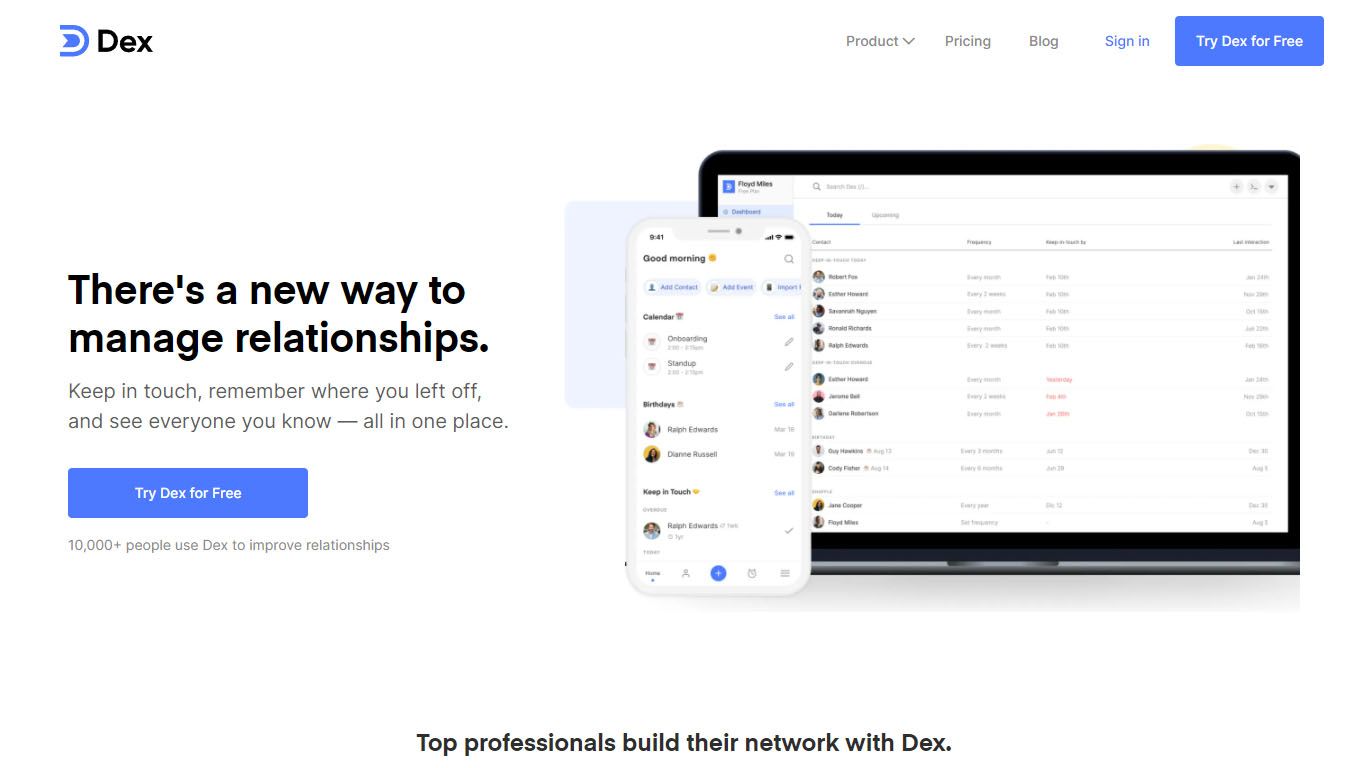 Dex - Best CRM for Contact Management
Dex is the ultimate CRM that allows solopreneurs to manage their personal and professional relationships at their fingertips. Using this CRM, you can remember what you pitched potential clients, send reminders, and more well.
The main advantage Dex has over other tools is it's multiple integrations. One of the most important it's ability to sync with LinkedIn, where your professional network already is.  With integrations with Facebook, Gmail, LinkedIn, and other resources, Dex helps you import contacts from anywhere on the web. After that, it creates a master Rolodex where you can store the details and communicate with each business contact.
The best part is that you don't have to remember anything manually with Dex. Instead, the software stores information from your last interaction, so you can always pick up from where you left off. This helps you build stronger customer relationships and acquire long-term recurring clients.
Besides that, the software is exceedingly easy to use with fast keyboard shortcuts to conduct all your tasks quickly. Moreover, it has a strict security system intact, so you don't have to worry about sharing your contacts with third parties.
Most importantly, Dex offers a free trial and a version for solopreneurs on a budget. In the free basic tier, you can write unlimited notes and and access their mobile app as well. This makes it an affordable solution for soloprenuers at all stages.  Dex also has premium services like contact syncing, reminders, and priority support at an affordable monthly subscription.
Cost: Free, with a paid tier of $9.99/month.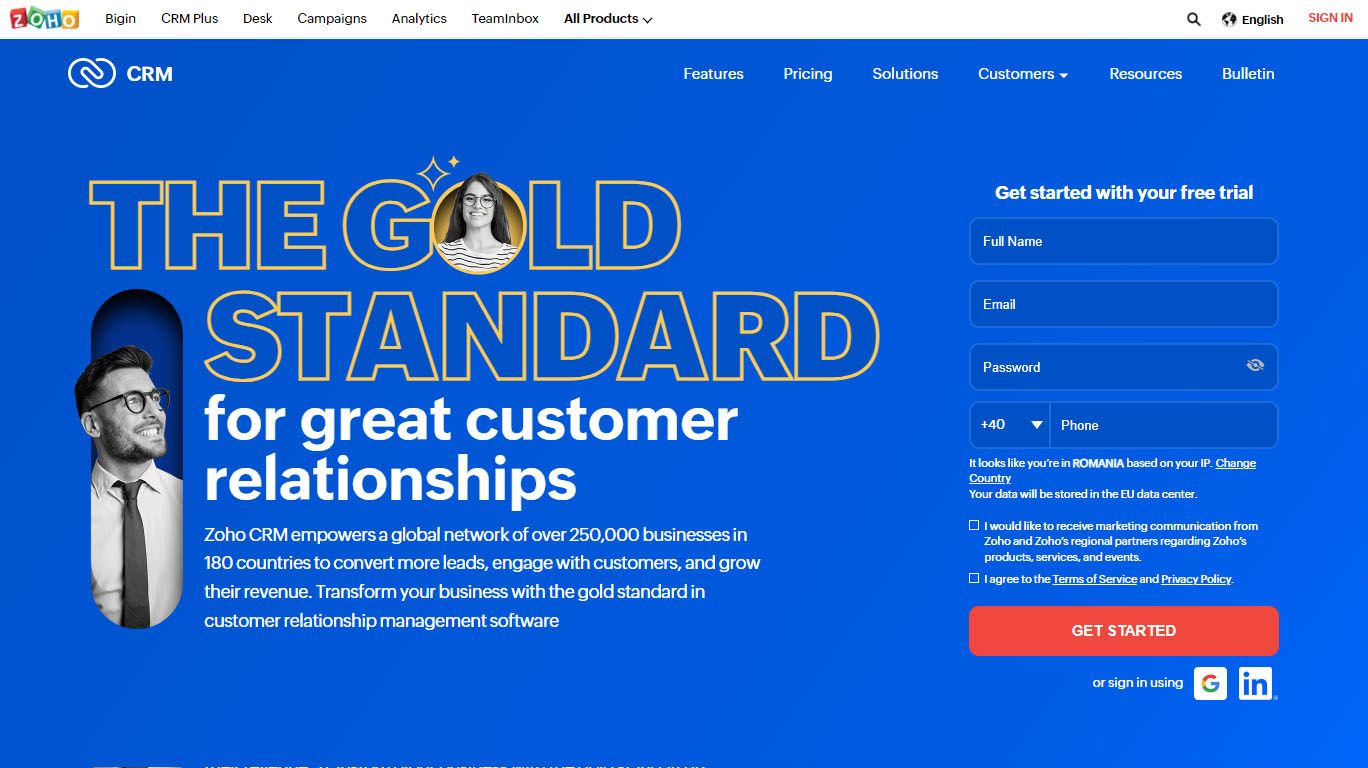 Zoho CRM - Best Overall CRM
If you're a solopreneur who needs an affordable CRM with multiple features, Zoho CRM is a great all-in-one solution. The cloud-based CRM offers an affordable free plan with paid additional features to help handle your billing cycles.
Apart from interacting with your customers, you can automate the entire process of invoicing and billing with a single click.
You can also setup billing frequencies and payment reminders for your customers while effortlessly managing your timesheets and invoices. This helps you manage many clients at once and acquire new customers on the way.
Besides that, Zoho CRM helps you create a professional impact on your customer by sending tax-compliant invoices upon every purchase. This not only enhances your business outlook but saves you a considerable amount of hassle as well.
The CRM is free for up to 3 users, but you'll have to buy one of their paid plans if you have a larger team. The best part is, you can go through a free 30-day trial before paying for any plan you choose to see if it fits your needs.
Cost: Three free users and essentials, with a paid tier of $20-65/month.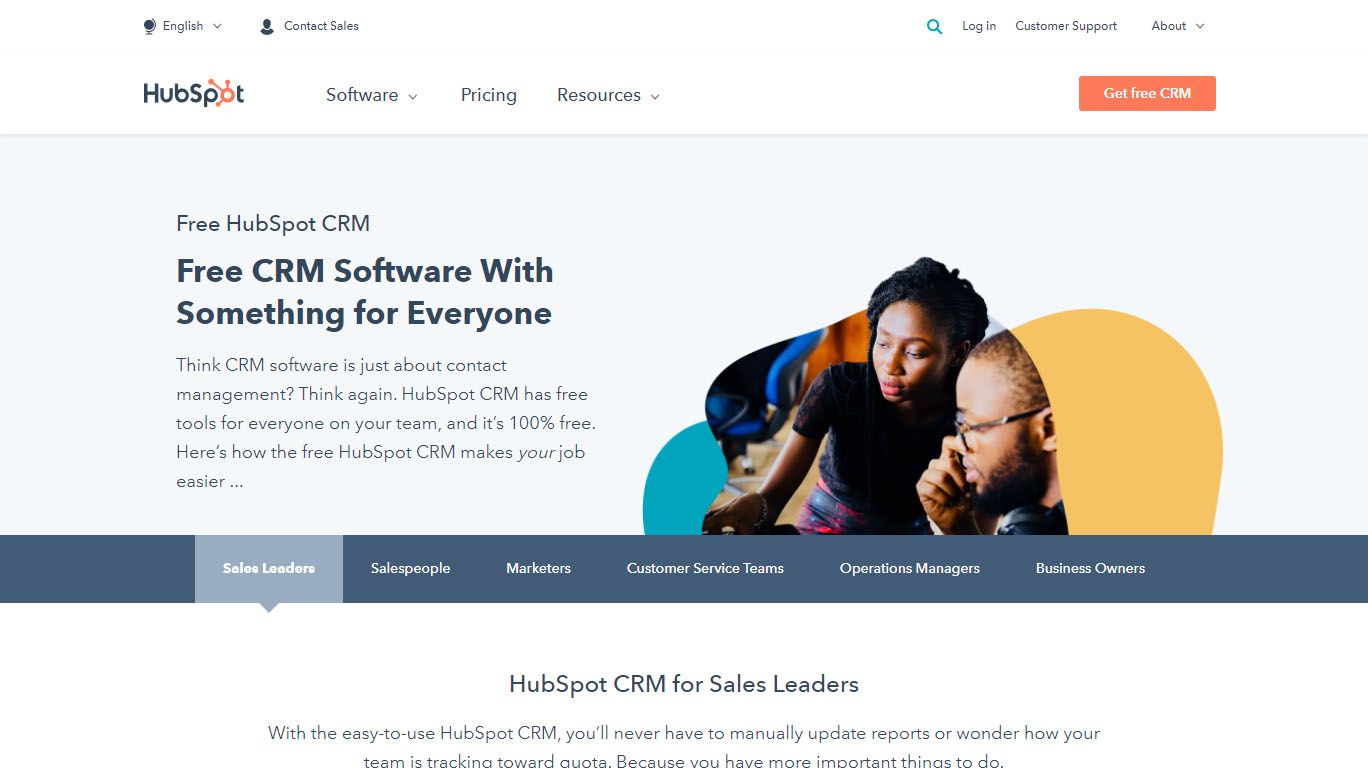 HubSpot CRM - Best CRM for Small Startups
HubSpot CRM is a free sales and marketing software for small startups with paid upgrades. Using the free plan, solopreneurs can manage potential leads and pitch clients by scheduling meetings and monitoring assigned tasks.
The best part is, its free version also includes access to its mobile app, which helps you monitor all your business operations on the go. An affordable solution to start with, this CRM offers multiple upgrades so you can further automate your operations as your customer base grows.
It can sync your data from other business service platforms like G Suite and Quickbooks. This way, you can store all your data in one location and manage it easily.
Besides that, it manages all your contacts, accounts, and leads. Meaning, you can provide prompt responses to potential customers asking for quotes and appointments.
Cost: Free, with additional Sales Hub / Marketing that starts at $45/mo.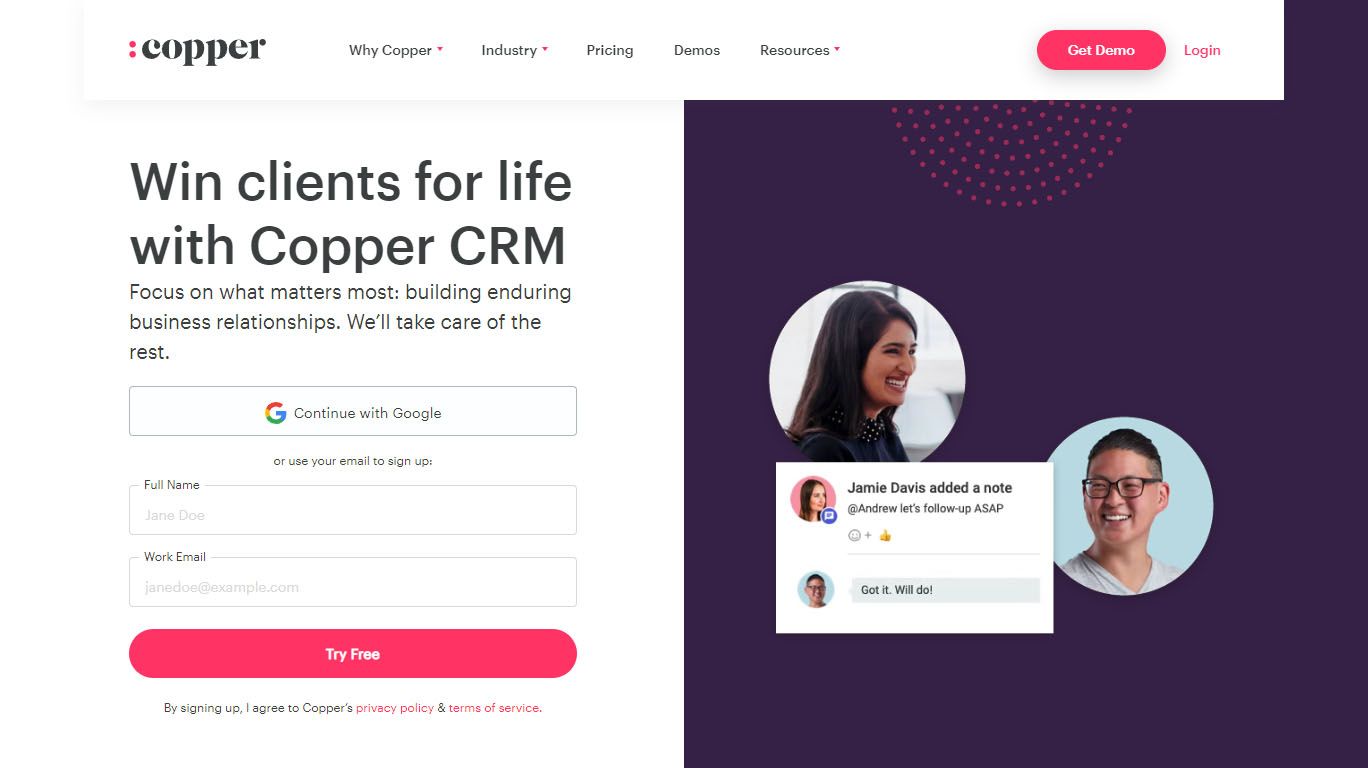 Copper - Best CRM for Google Workspace
Copper is the ultimate choice if you're looking for seamless integration to Google Workspace and an effortless learning curve for beginners.
The CRM integrates flawlessly with Google Workspace without any coding requirements. Meaning, you can add leads, send emails, and complete other tasks efficiently without jumping from one window to another.
What's more, it gives you the convenience of Google outlook, which you're familiar with. So, you don't have to dedicate any time to get used to the software. Just sign up and start working.
It also easily exports contacts from Microsoft Excel, Salesforce, and LinkedIn. Besides that, it helps you save time by automatically storing recurring tasks.
On the downside, the CRM does not have a free plan. However, you'll get a 14-day free trial with any paid plan you sign up for to see if it fits your needs.
Cost: Free for 14 days, then $29-129/month.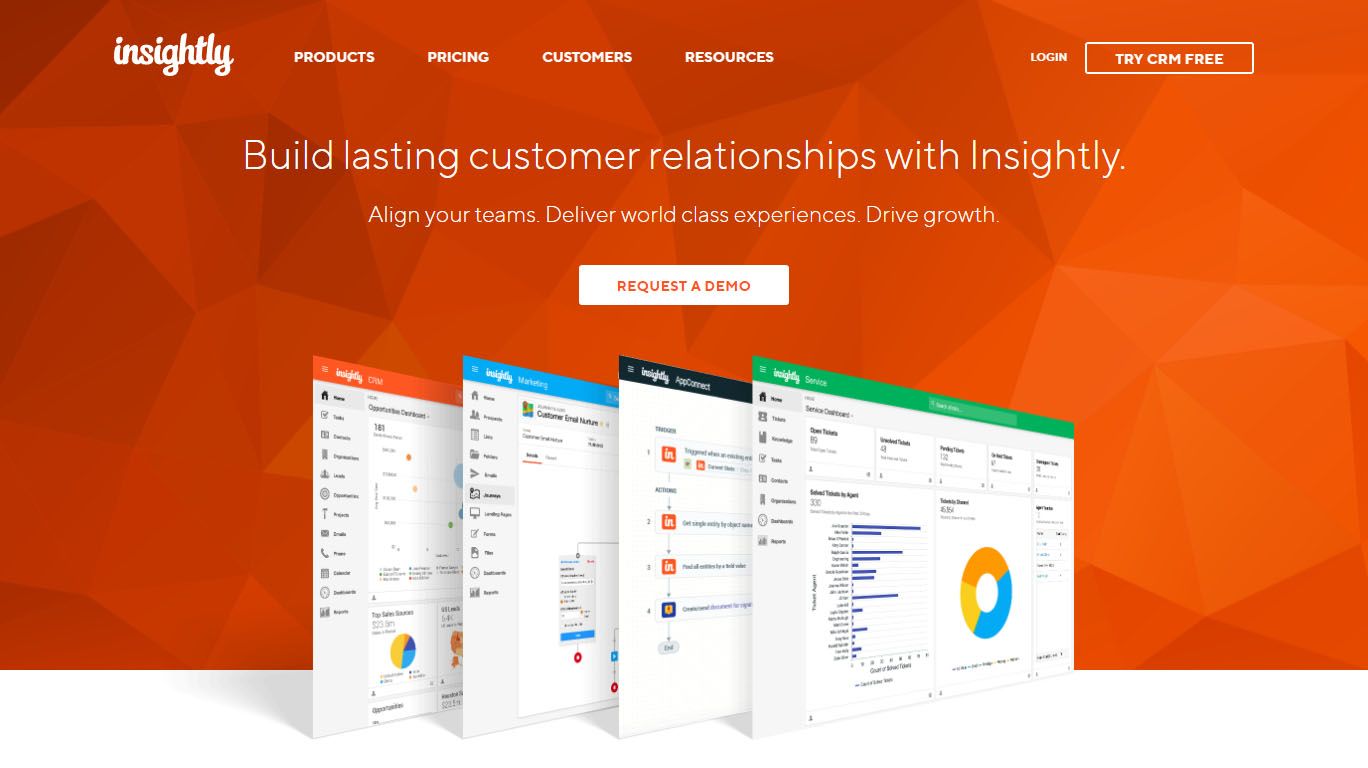 Insightly - Best All-In-One Platform
Insightly is an all-encompassing CRM that delivers all your sales and marketing needs as a solopreneur. It is entirely free for up to two users; it is an affordable management platform for start-ups operating on a budget.
With multiple tools for managing contacts, the software lets you send mass emails, create milestones and connect with your clients on social media.
The app flawlessly integrates email, Google Apps, Office 365, and other 250+ business apps. Meaning,  you can manage all your tasks from a single screen.
Additionally, you can also connect with potential clients through its in-app dialing system without using your device. This not only makes for accessible communication but also helps create a professional outlook for your business.
Besides that, Insightly has three different plans which you can upgrade to as your business grows. This way, you can retain your initial data while enjoying advanced services such as growth statistics and data organization.
Cost: Free trial, then $29-99/month.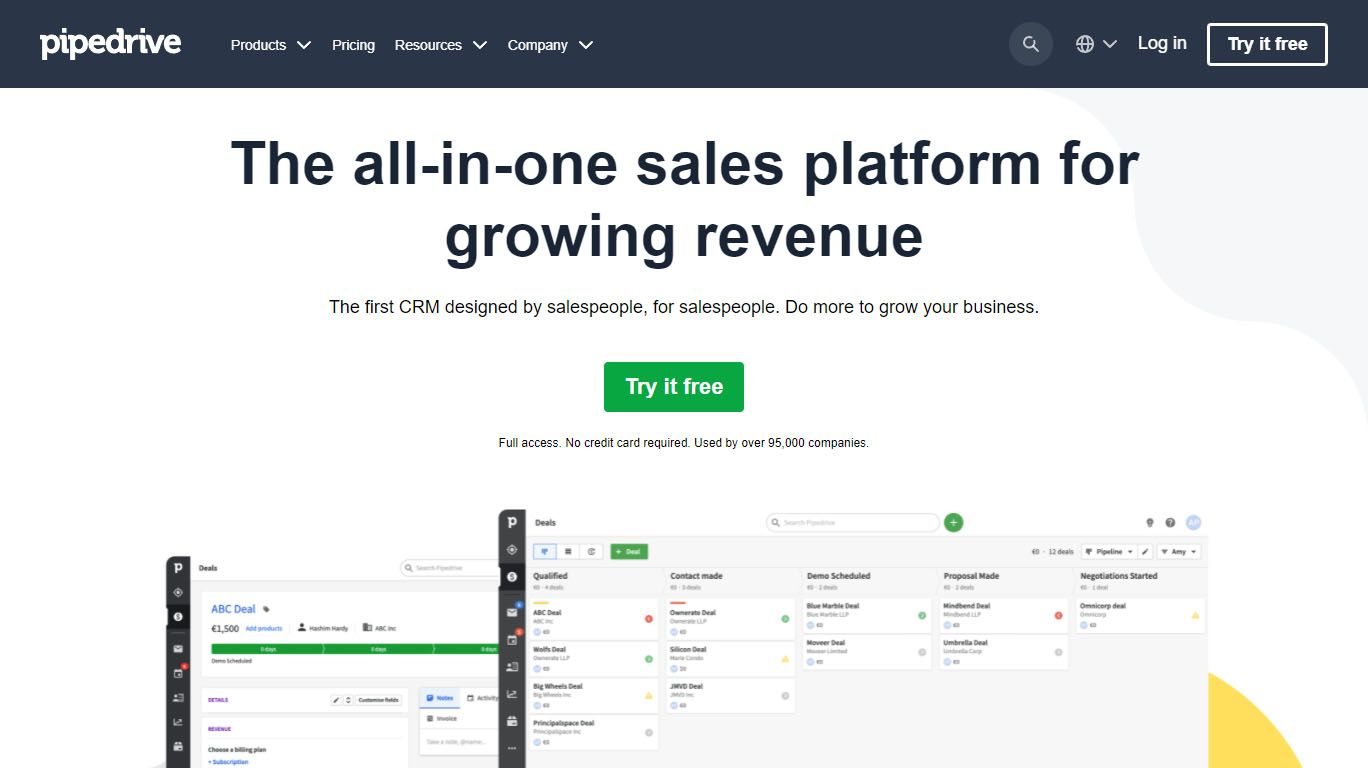 PipeDrive - Best CRM for Sales Pipeline Management
PipeDriveis an easy-to-use CRM that helps track your leads and clients through its clutter-free user interface. As a freelancer, you can stay in control of your sales process by monitoring emails, calls, and other tasks at once.
Besides that, its visual interface easily lets you track sales cycles and project details at a glance so you can plan your strategies accordingly. Another great feature is that the CRM links your emails directly to the associated deals. This way, you can get a clear picture of each deal and measure your performance according to your goals.
Additionally, PipeDrives automates monotonous tasks like sending follow-up emails and reviewing data. This way, you don't have to waste your time manually repeating each task every day.
Moreover, it provides real-time updates on your deals and transactions. Besides that, the CRM works to customize your sales pipeline in simple stages.
Also, it gives you real-time updates on the progress of your sales pipeline right on your desktop. This makes your sales process more accessible and helps you address multiple opportunities at once.
Although it does not offer a free plan for users on a budget, you can sign up for a 14-day trial before subscribing to any of its paid methods. Similarly, the software lets you pay monthly or annually according to your convenience.
Cost: Free for 14 days, then $18-119/month.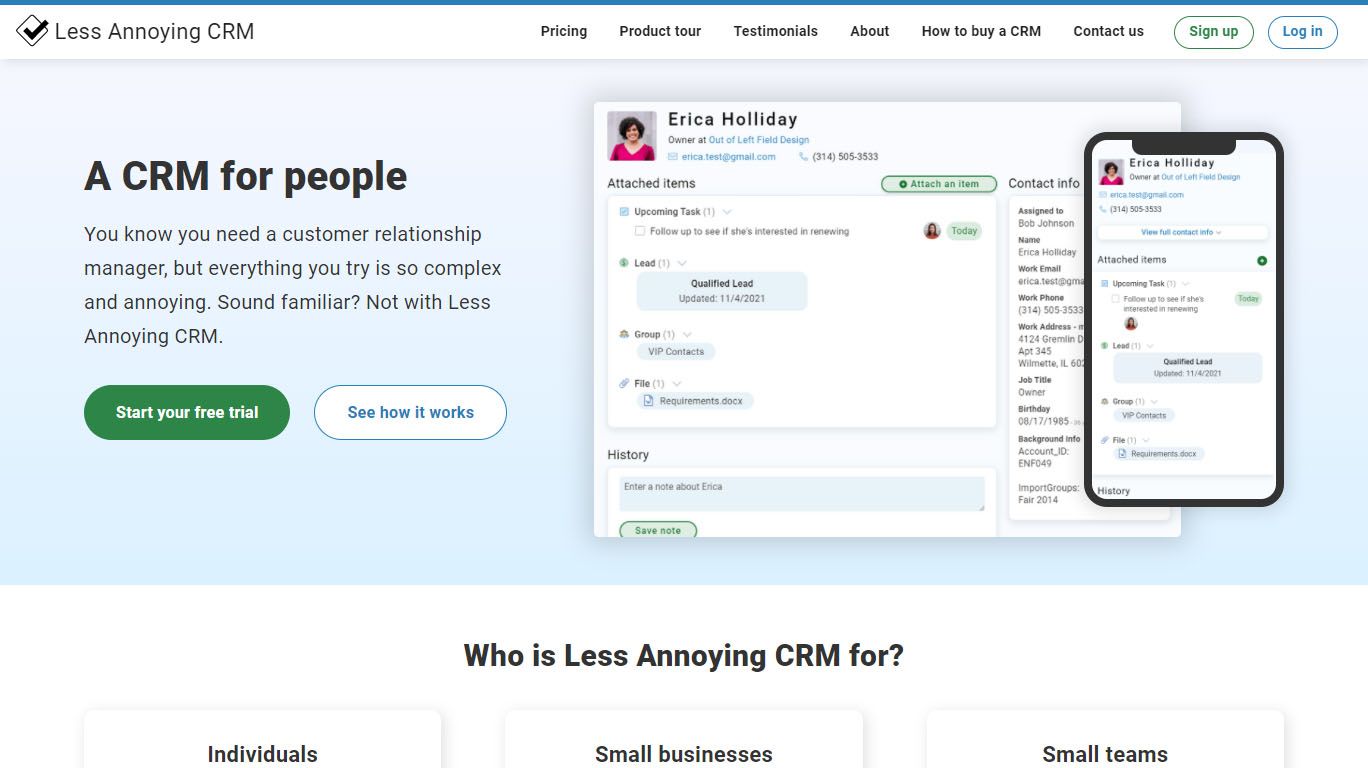 Less Annoying CRM - Best CRM With a Simple Interface
As the name suggests, the Less Annoying CRM works to make your everyday labor less annoying. It has an impeccably designed user interface that offers solutions to reduce the hassle of business management.
It helps you manage your contacts and provides prompt analysis of your data. You can pitch potential leads, set long-term goals, and apply various customer retention techniques using this information.
Other features include live demonstrations, mobile-friendly website integration, and free customer support.
There is no free plan to use on this CRM, but it has one of the cheapest rates available with its paid plan. However, if you're on a budget, you can try out their free trial before you pay for the services to see if it's suitable for you.
Cost: $15 per user/month.
Conclusion
In a nutshell, the best CRM for solopreneurs is one that includes the features you need in an affordable price range that works for you. In addition, it should perform the required functiosn you're looking for: help track your VIP clients, manage your contacts, and integrate with your workflows.
Whatever you do, do not invest in a CRM just because it is advertised as a 'must-have.' Instead, conduct a thorough evaluation of each option based on the criteria provided above, and your own use case.  Ultimately, the best CRM will the tool that you can use and stick with.