Welcome to Dex
"Why isn't there an app for relationships?" you wonder to yourself, as you settle for scattered iPhone notes, Excel spreadsheets, the LinkedIn search bar, or other powerful-but-imperfect tools like Airtable and Notion. At Dex, we're hard at work creating a better solution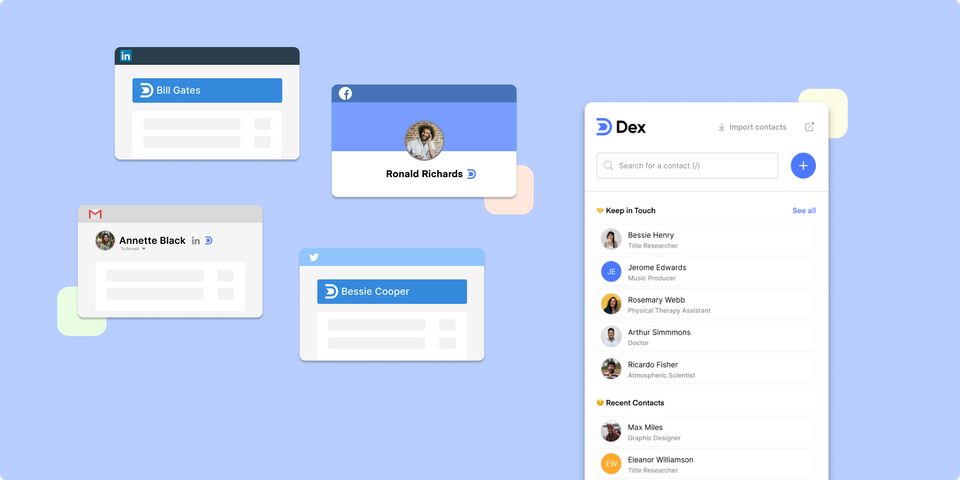 In today's digital age, it's easy to lose touch with friends that were once close. It's even easier to lose track of everyone in your professional network, from the chance conference encounters to your classmates from business school.
"Why isn't there an app for relationships?" you wonder to yourself, as you settle for scattered iPhone notes, Excel spreadsheets, the LinkedIn search bar, or other powerful-but-imperfect tools like Airtable and Notion.
At Dex, we're hard at work creating a better solution.

What is personal CRM?
CRM stands for "customer relationship management", a software commonly used by companies to track the ways consumers interact with their business. Personal CRM, on the other hand, is meant to help an individual build out their personal network of friends, family, and professional connections on a single platform. Think of personal CRM as one place for you to stay on top of your relationships, whether for work or life.
Intro to Dex
Dex is short for "rolodex" (remember those?). and is exactly that: a digital rolodex for the 21st century.
Dex gives you a single source of truth to organize your connections across phone/email contacts, Facebook, LinkedIn, and 15+ other sources.
After you consolidate your relationships, Dex helps you go beyond a rolodex. Dex helps remind you to keep-in-touch, notifies you of upcoming birthdays, and shows you where you left off. Most importantly, Dex puts you in control of all of your data. Unlike other prominent contacts apps, we will never sell or give your data to third parties.
Is Dex for me?
If you've ever wanted to be intentional about your relationships, then yes.
If you're an investor, consultant, banker, real estate agent, academic, or other professional that needs to manage a large network, Dex is for you.
If you're a college student, software engineer, or someone who simply wants to be better about building relationships, Dex is also for you.
We've built Dex to be robust and easy to come back to. We believe that all strong relationships require commitment. In a digital world where a busy schedule can take over, close connections can drift apart despite our best intentions. Dex can give anyone the insight and nudge to build stronger relationships.
The Story of Dex (told by Kevin)
Dex started in early 2019.  In the process of working on another startup, I realized I wasn't keeping in touch with my close friends. While building my company, I also met interesting people who would make great mentors, advisers, and future collaborators.
These new relationships weren't 100% professional, but a blend of both professional and personal, and  I looked for tools to help me stay on top of these relationships. These tools (mostly data tools like Notion, Airtable, and Google Sheets) were flexible and powerful but difficult to come back to. Even after meeting new people, I struggled to find the time and motivation to build a habit of use.
With this experience, I set out to create a personal relationship manager I'd actually enjoy coming back to. Key to this desire was accessibility — I wanted to build a tool that integrated with my existing workflows in Facebook, LinkedIn, email, and calendar.
Dex participated in Y Combinator's 2019 batch and publicly launched in mid August. Since then, the company has grown from just me to a core distributed team of 3 building out Dex.