Notion vs Dex as a Personal CRM in 2021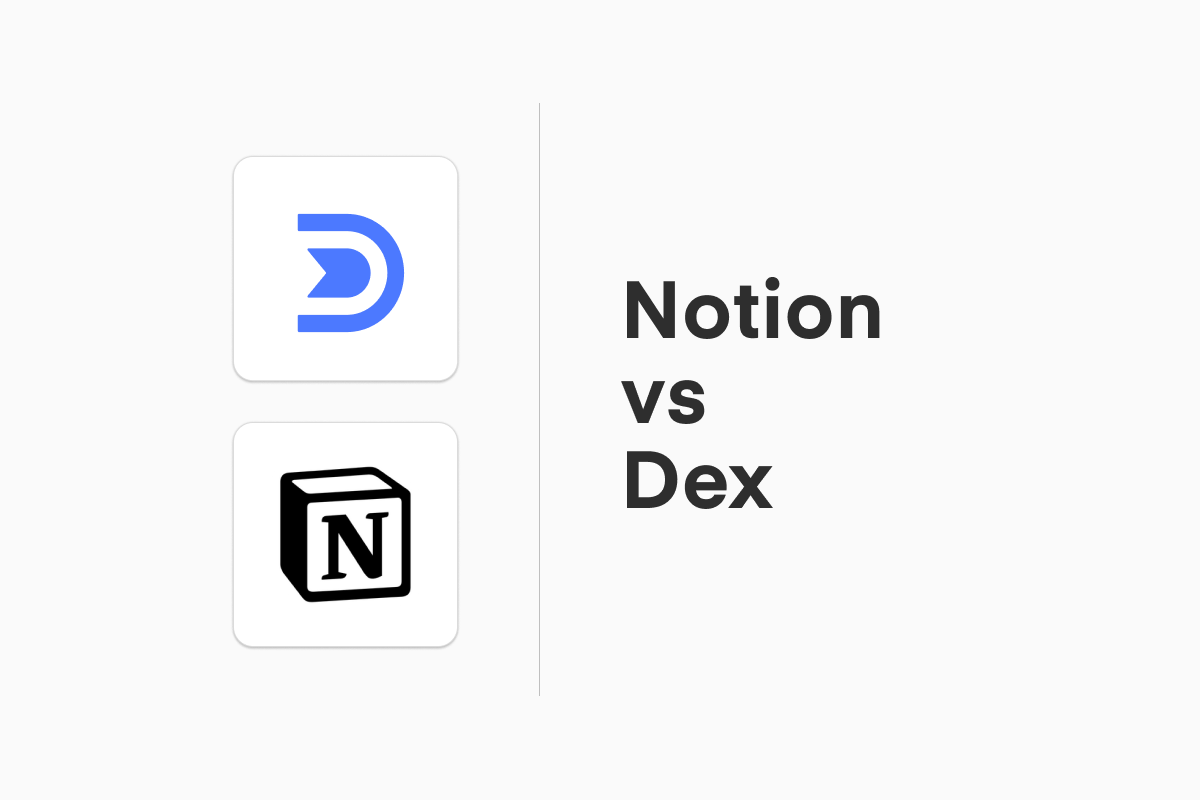 Want to explore Dex as a Personal CRM? Get started here!
If you already use Notion to organize your work, it may be tempting to organize relationships in Notion too.  But Notion might not be the best tool for the job. In this article, we cover the tradeoffs of using Notion vs. the Dex for managing your network.
What is Notion?
Notion is a powerful note-taking and organization tool--an "All-in-one workspace." Teams use Notion as a capable note-taking app, project tracker, collaborative calendar, knowledge base, and interactive to-do list.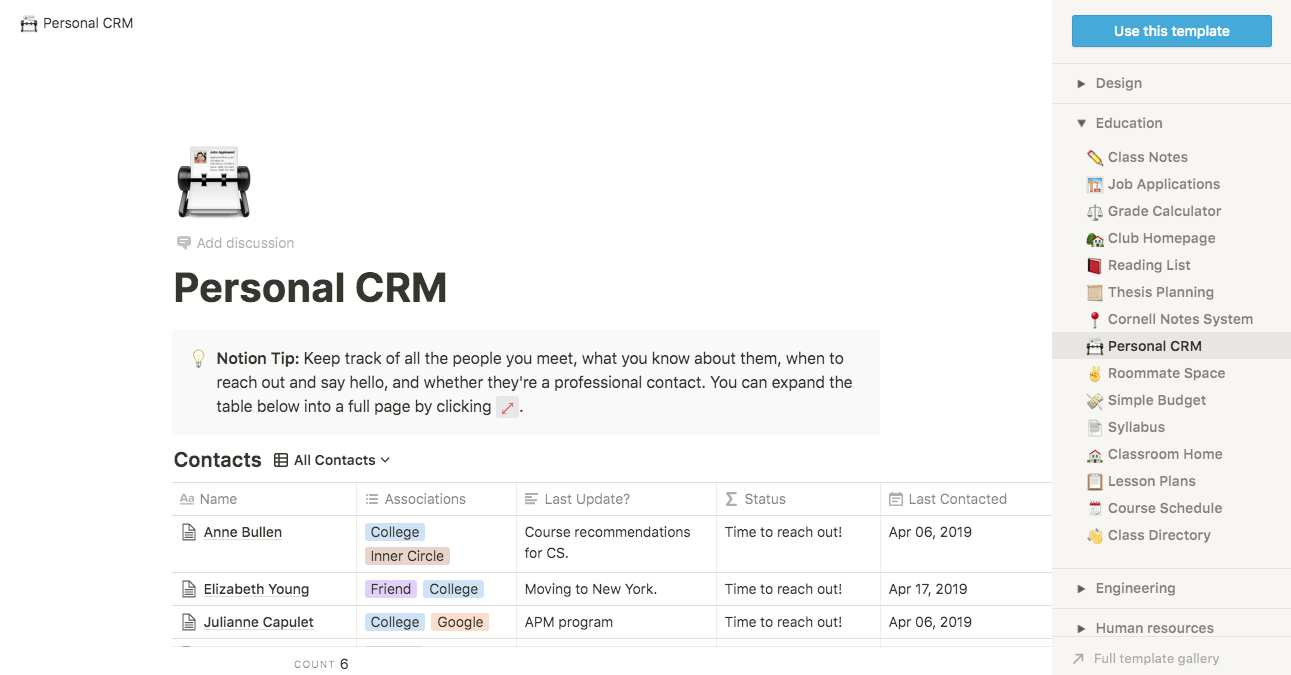 However, for managing relationships, Notion comes with trade-offs. One of Notion's templates, Personal CRM, suggests Notion as a place to manage your personal relationships.
But keeping Notion up-to-date can be a lot of work.  In addition, Notion has no dedicated mobile experience, recurring reminders, or integrations with social networks.
What is Dex?
Dex is a personal CRM that helps you stay in touch, remember where you left off, and manage your network. Dex is interactive, flexible and extremely convenient to use both on your phone and on your laptop.
Here's how Dex is different when compared to Notion:
Easier to maintain with our Chrome extension and keep-in-touch reminders that update with last interaction
Mobile experience with our dedicated, integrated mobile app that also pairs well with phone contacts
Automation pulls in relevant calendar events and interactions, so you don't have to update last interaction manually.
Integrations with all major contact sources, so you don't have to start from scratch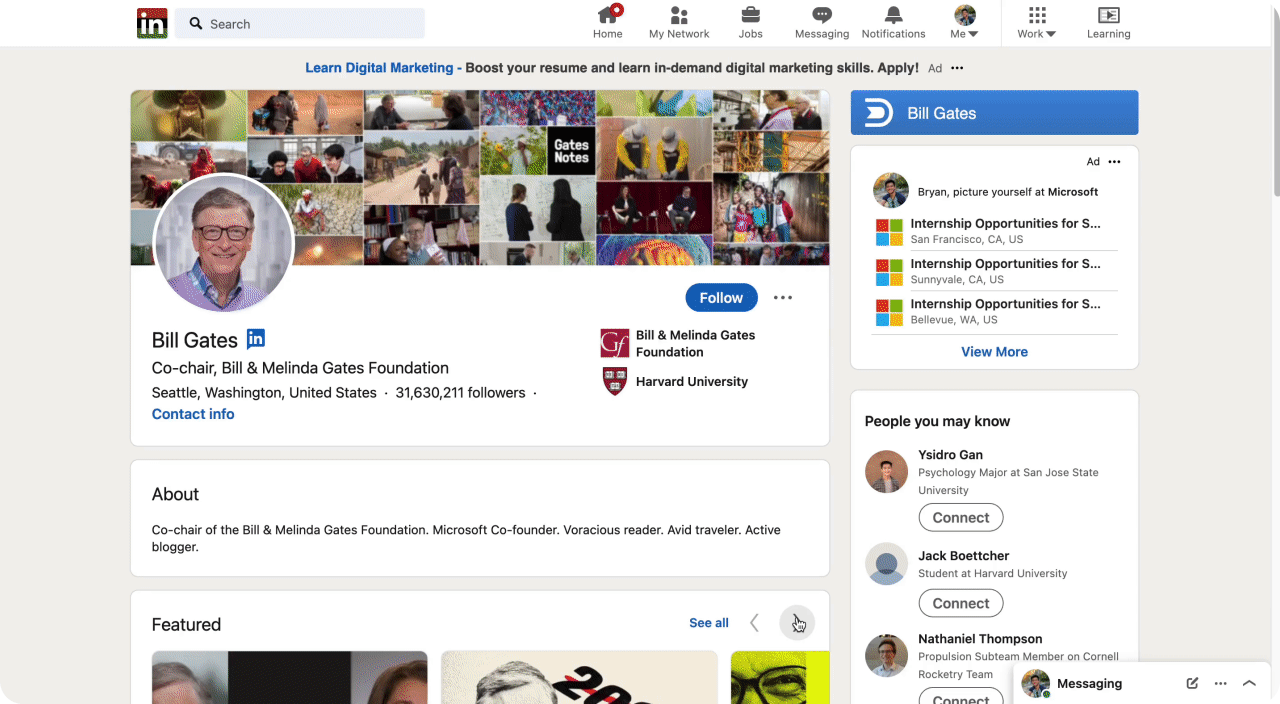 One-Click Social Network Integrations
Have you ever come across someone on LinkedIn and want to tag them or follow-up later? The Dex Browser Extension can help. With the extension, to add contacts directly from a profile (whether LinkedIn, Facebook, Twitter, or Instagram) into Dex.
You can also leave a note or reminder without leaving the page! This unique feature makes Dex way easier to use than existing CRMs.
Dedicated mobile experience
Dex's free mobile app is built to provide the same, robust functionality as the desktop version. Receive push notifications to keep-in-touch on your phone. Search through a unified timeline of all your past notes. From the mobile app, jump into a call or past conversation in Messenger, LinkedIn, Whatsapp, and more.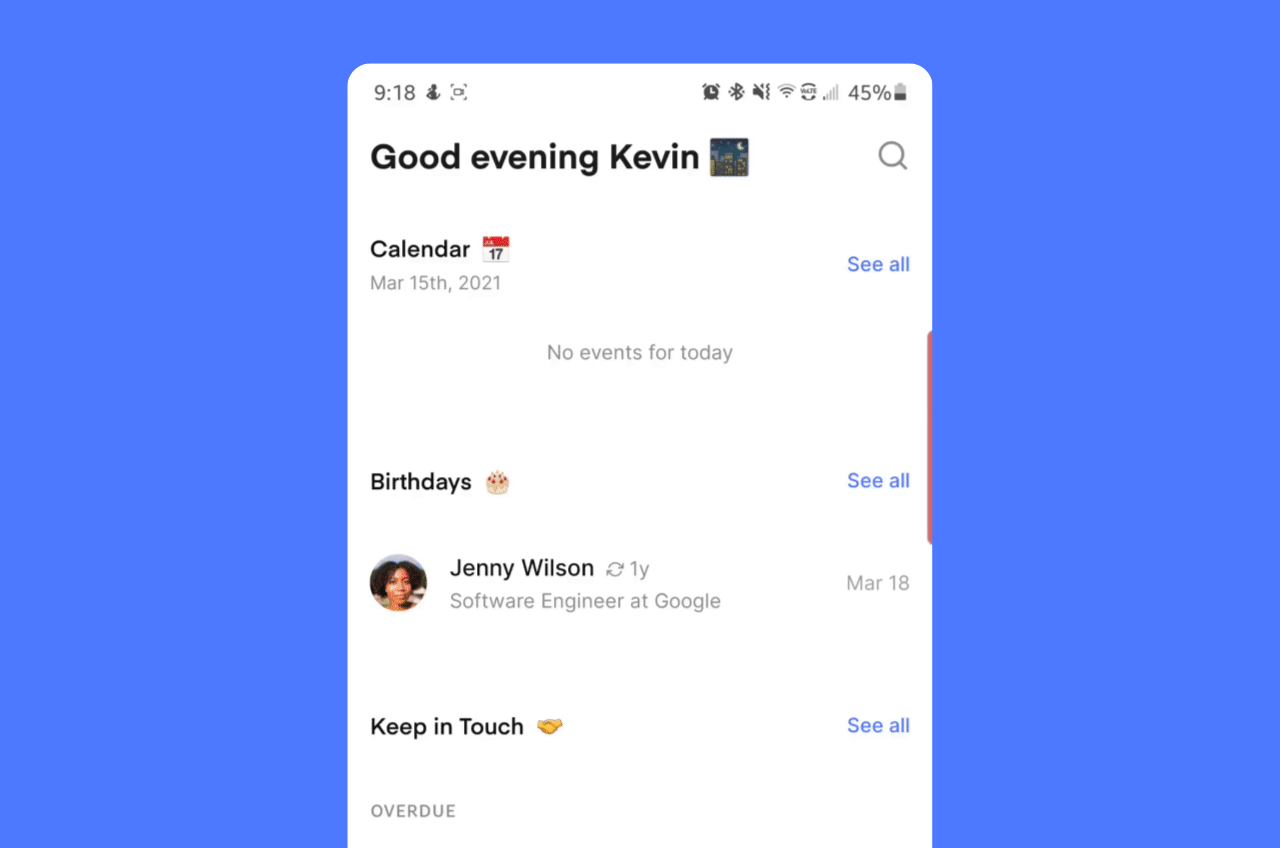 Notion's mobile app isn't built for contact management -- it also doesn't have built-in email reminders on periodic frequencies. While Notion's mobile app might work for note-taking, Dex's purpose-built experience is tailored for managing relationships.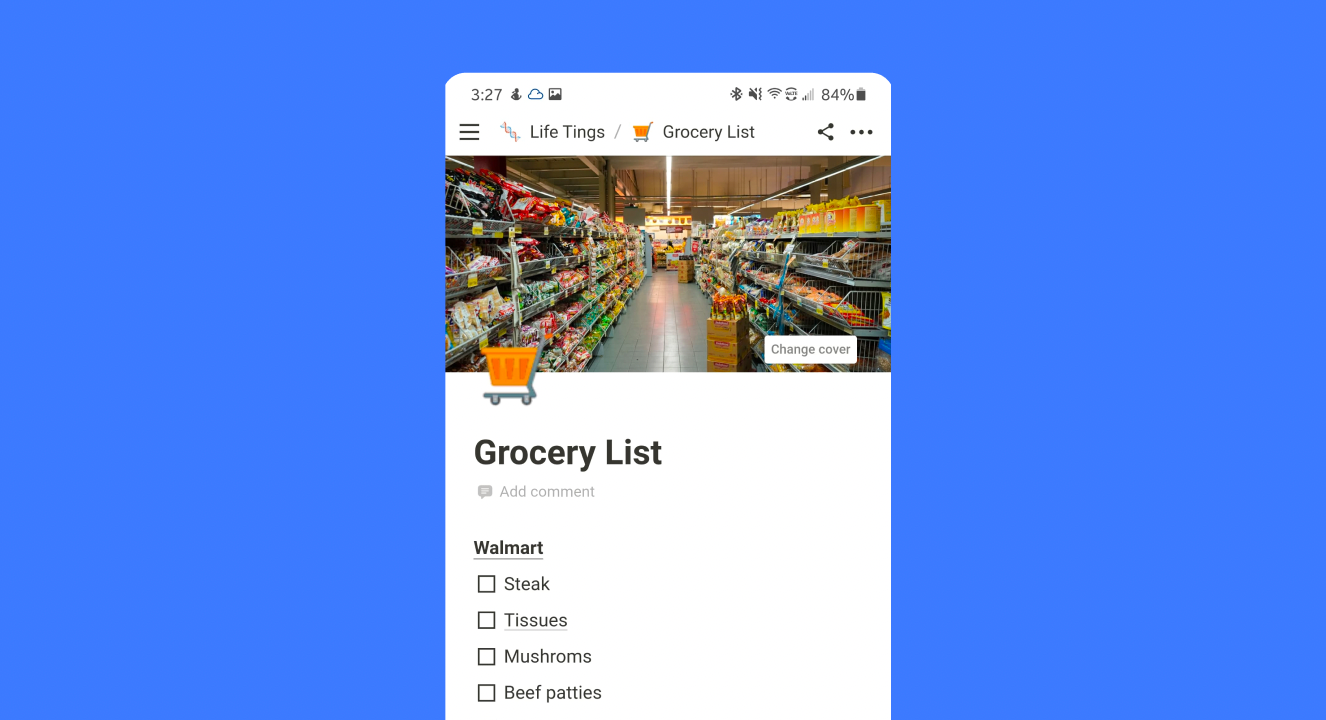 Contact Import and Deduplication
There's no easy way to import and de-duplicate contacts into Notion. Unless you're starting from spreadsheet, you'll have to put in a lot of work to get started with Notion.
Dex modernizes the manual process of relationship management import feature, allowing users to import from where they already manage their relationships (like LinkedIn and Facebook).  In addition, with Dex you can also import from a CSV file and spreadsheet as well — useful if you're switching from Notion or Excel!
With Dex, import from all these sources:
Facebook (we'll also import birthdays)
LinkedIn (we'll also import location)
Google Contacts
CSV File
Outlook
Gmail
iCloud & Phone Contacts
After importing you can use Dex's "Merge & Fix" feature to clean up duplicate contacts from multiple sources. Dex makes it easy to create a single source of truth for your contacts.
Calendar Integrations
Although Notion has a calendar view as part of their note-taking functionality, there's no  integration with actual calendar data. Dex integrates calendars more seamlessly. Not only can you see matching events for a contact, your keep-in-touch reminders also update based on your last calendar event.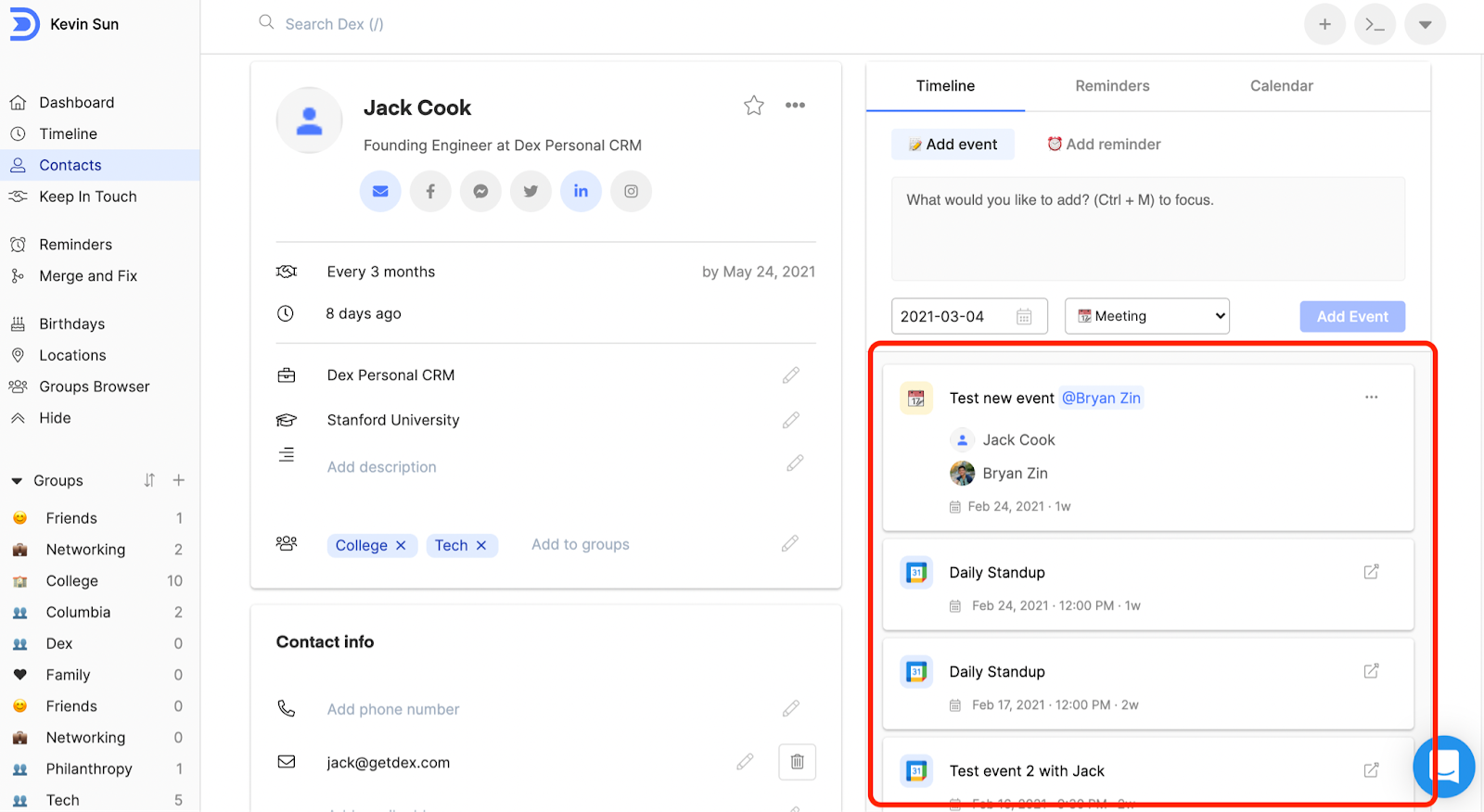 Better Reminders
Notion is great as a creative to-do list, but it doesn't send reminders easily. Without manual configuration, Dex sends email and push-notification reminders, including:
Keep-in-touch reminders automatically updated based on last interaction and a keep-in-touch frequency
Birthday reminders
One-time reminders users set manually ('Jack launches his new company')
Being better at keeping-in-touch is a key reason why you might consider a personal CRM. Dex makes this easy with a system of automated, actionable reminders.
Cost Comparison: Notion vs Dex
Notion has a generous free plan. Students also get access to the Personal Pro plan ($4/mo value) free, which allows for unlimited guest collaboration and file storage.
Dex also includes a free plan, which includes limited browser extension features.  An upgrade to Dex Premium is $9/mo for unlimited access for all features. New users who sign up for Dex start with a a 14-day free trial period for Dex Premium.
Conclusion
Dex and Notion are very different tools. Notion helps you plan, organize, and take notes as a versatile jack-of-all trades tool.  On the other hand, Dex is a purpose-built tool designed to work effectively as a seamless personal CRM.
Dex's future features, updates, and roadmap all focus on helping users build stronger relationships. Get started today by downloading the Dex Chrome extension or mobile apps.