Airtable vs Dex as a Personal CRM in 2021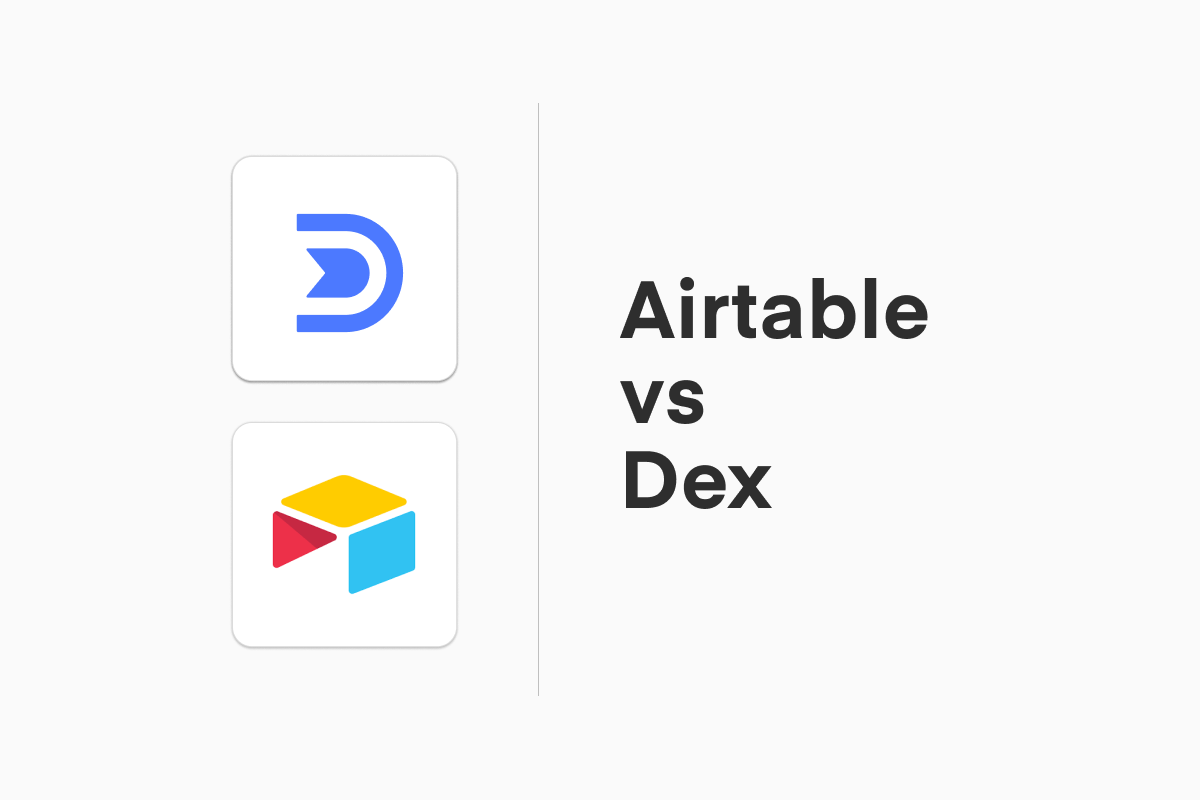 Want to explore Dex as a Personal CRM? Get started here!
Airtable is spreadsheet/database tool used by project managers, educators, advertisers and other professionals. In addition to templates, content calendars, and project trackers, Airtable offers automation and collaboration capabilities.
Even though several authors have written about using Airtable as a personal CRM, it might not always be the best tool for the job. Below, we'll compare relationship management in Airtable vs Dex.
What is Airtable?  
Airtable is a flexible, online, workspace.  All types of information can be stored in it's repertoire of spreadsheets. In addition to a wide number of views (file attachments, card stacks, calendars and custom spreadsheet templates), Airtable also offers many features that can automate your workflows.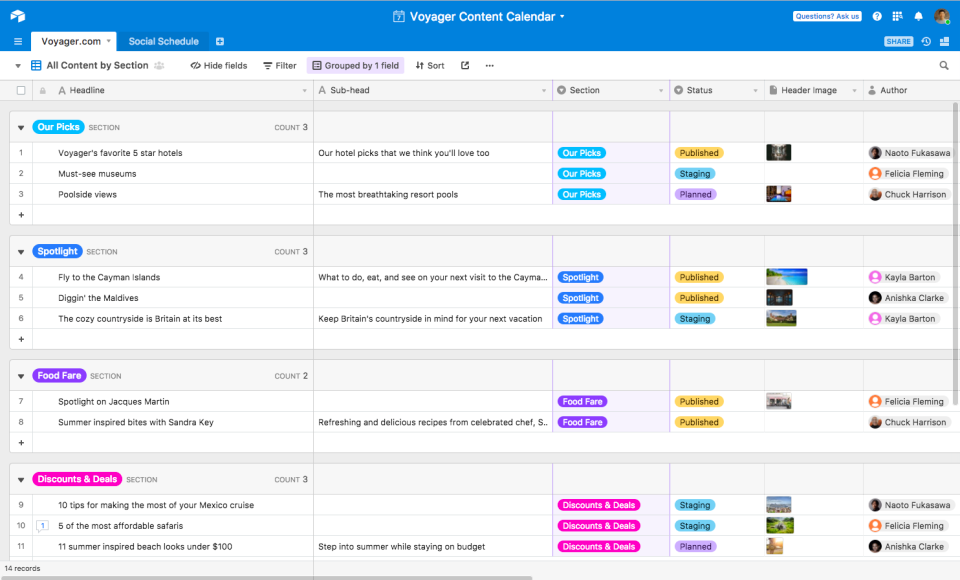 Airtable as "Personal CRM"
If you manage a broad network, you'll want to establish a system to make sure you stay on top of relationships.  Often called a "Personal CRM," these systems are a store of information that helps you keep track of:
Your contacts and who you know
Remembering to reach out.
Past context (like details and meeting notes).
As a database management tool, you could use Airtable for this purpose.  (Airtable itself has a 'Personal CRM' template), but there will be drawbacks.  These include the manual input required for Airtable, lack of periodic reminders, and less overall integration with contacts and social media platforms.
Because Airtable is not built specifically for the job of relationship management, using Airtable comes with serious tradeoffs.  Dex, built specifically for the task of Personal CRM, may be a better alternative.
What is Dex?
Dex is a personal CRM that helps you build stronger relationships. With Dex, users can  make sure they keep in touch, remember where they left off, and build stronger relationships.  Available as a web application, Browser Extension, and mobile app, Dex is an integrated, flexible solution on your phone and desktop.
Dex provides these key features:
Keep-in-touch periodic reminders to that update automatically to maintain connections
Import of contacts from social media (Facebook, Instagram, LinkedIn)
Mobile and desktop flexibility with apps available on Android, iOS, web, and Browser Extensions
Seamless calendar integration to keep all your meetings in one place
Reminders: Airtable vs Dex
Airtable is great for organizing data--it has all the bells and whistles to make your boring spreadsheets powerful. However, as a CRM, it cannot do the essential task of reminding you to keep-in-touch with contacts.
Airtable: you can set dates, date conditions, and even triggers to show this in a separate view: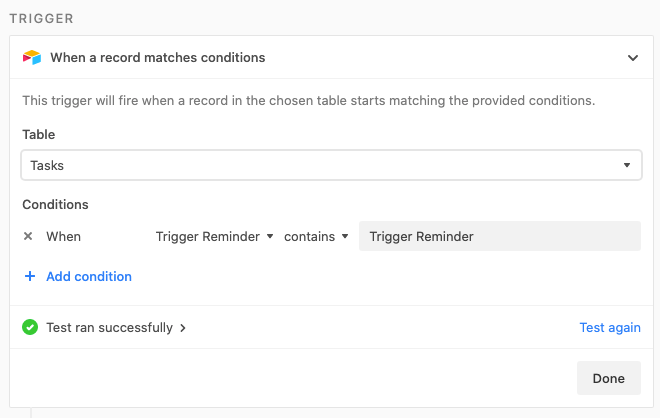 However, you'll have to manually update these reminders, and you won't receive any active reminders via email or push notification unless you spend time configuring integrations.
Dex: Dex makes setting periodic keep-in-touch reminders easy.  Simply choose a keep-in-touch frequency, and we'll calculate a 'keep-in-touch' date when we'll send you a reminder email and push notification.  The reminder gets pushed automatically when you create an event in Dex or a matching calendar event is found.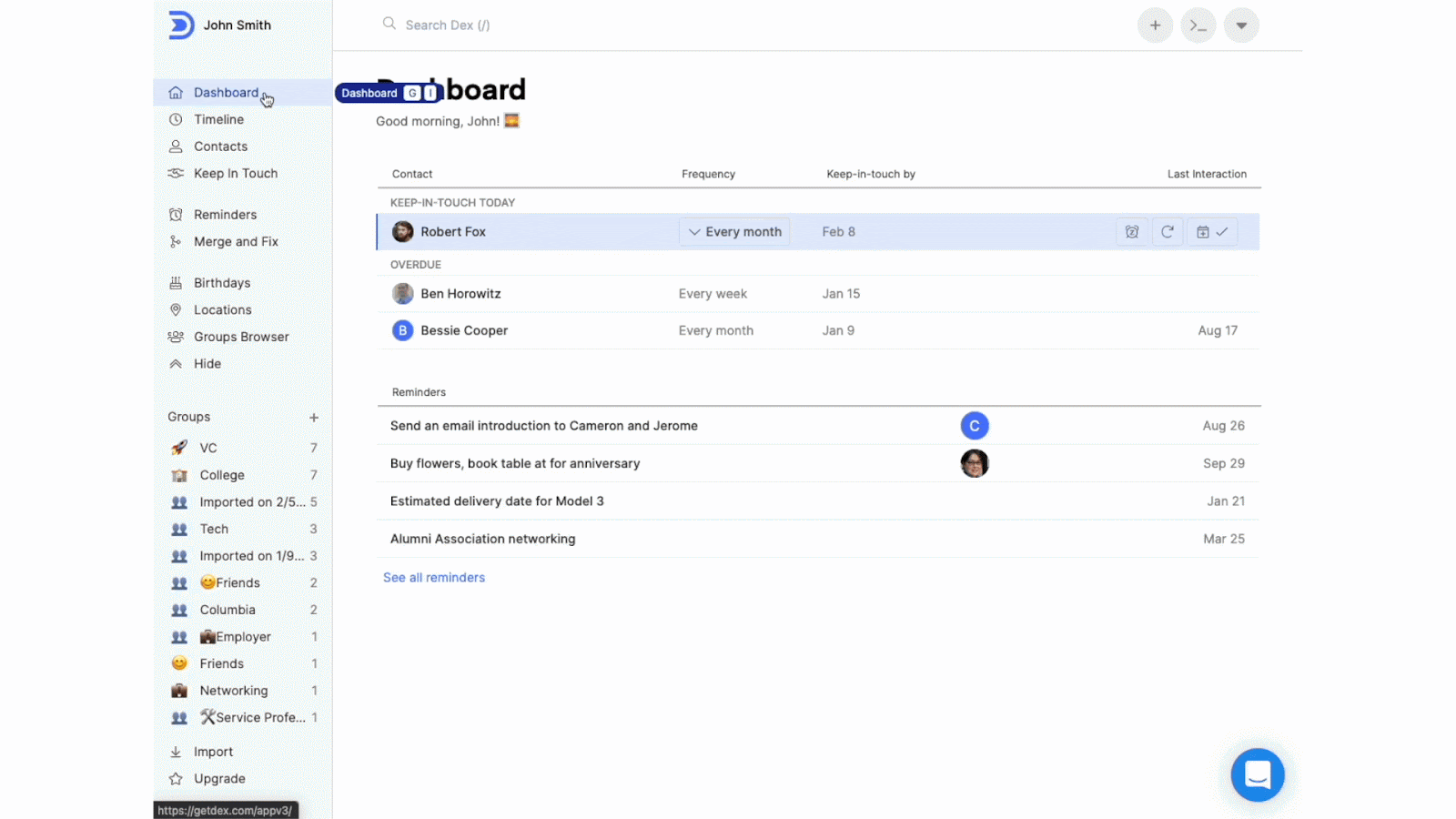 Import: Airtable vs Dex
If you're looking to switch or start a personal CRM, the experience with Airtable vs Dex is very different.
Airtable: you can import from .CSV files, which you'll have to export from Google Contacts or Outlook.  There's no straightforward way to import from Facebook, and forget about importing birthdays or profile pictures.
Dex: import from Facebook, LinkedIn, Google, Outlook and more seamless.  Use our native 'Merge & Fix' tool to create a single source of truth within minutes. Deduplication is easy.
Dex has specific functions dedicated to importing lists of contacts from most social media networks (Facebook, Instagram, Twitter, LinkedIn) as well as from .CSV files. This saves you hours of copying and pasting contact information from one CRM to another. With the import function, Dex will also fill in information such as company, role, location and other important information as accurately as possible.
Mobile Experience: Airtable vs Dex
While apps like Airtable do have a mobile app platforms, they are built for data entry, not for managing relationships:
Airtable: Airtable has a mobile app on iOS / Android where you can create and modify records.  
Dex: The Dex mobile app is also on iOS/Android and offers the ability to import from phone contacts, swipe left/right to dismiss reminders, and receive push notifications.
The Airtable mobile app is ultimately intended for data management.  Working in a mobile spreadsheet can be frustrating and time consuming.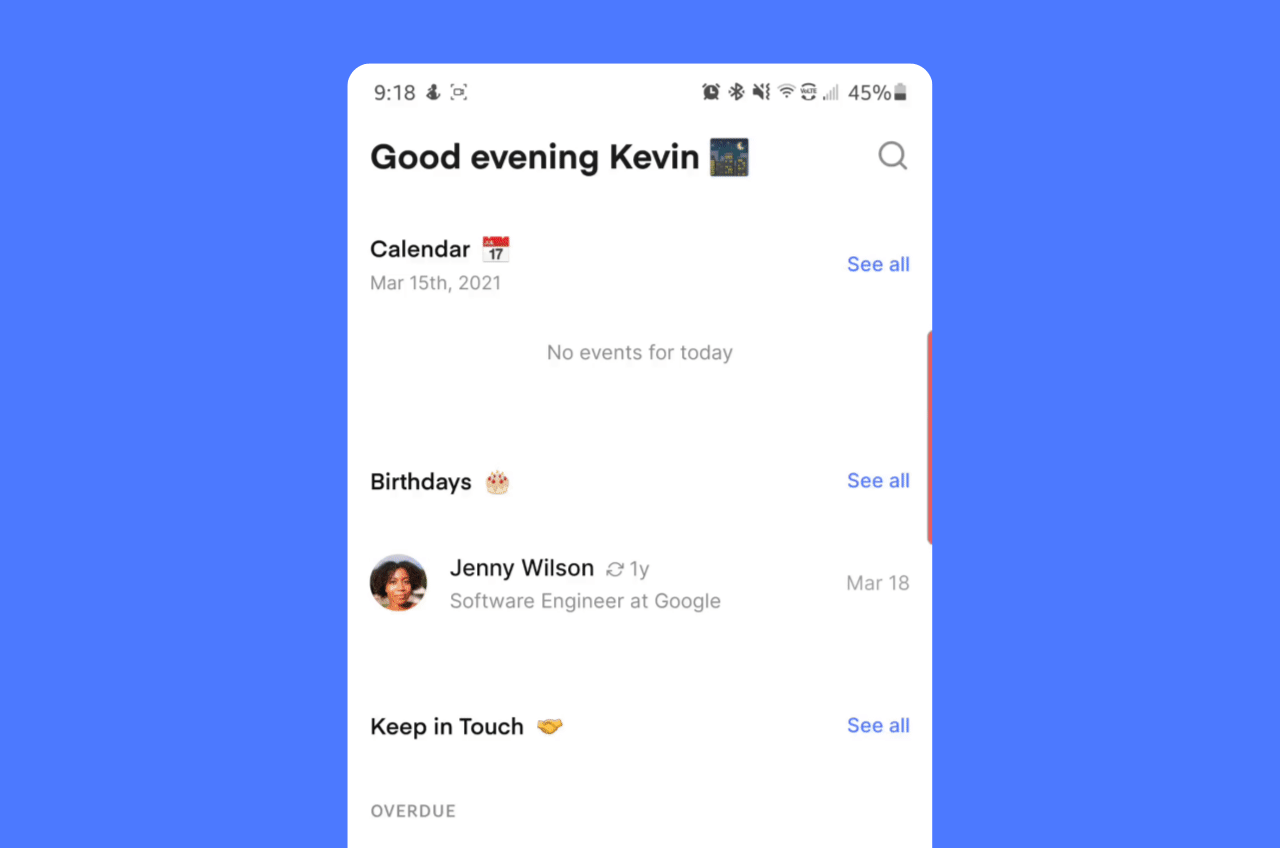 With the Dex mobile app, you have all features necessary for relationships management on your phone. Import from phone contacts, jot down a quick note, and get a push notification to reach out quickly and easily.
Platform Integrations: Dex integrates everywhere
One distinct advantage that Dex has over other CRMs is its ability to integrate with other social media platforms such as LinkedIn, Facebook, or Twitter.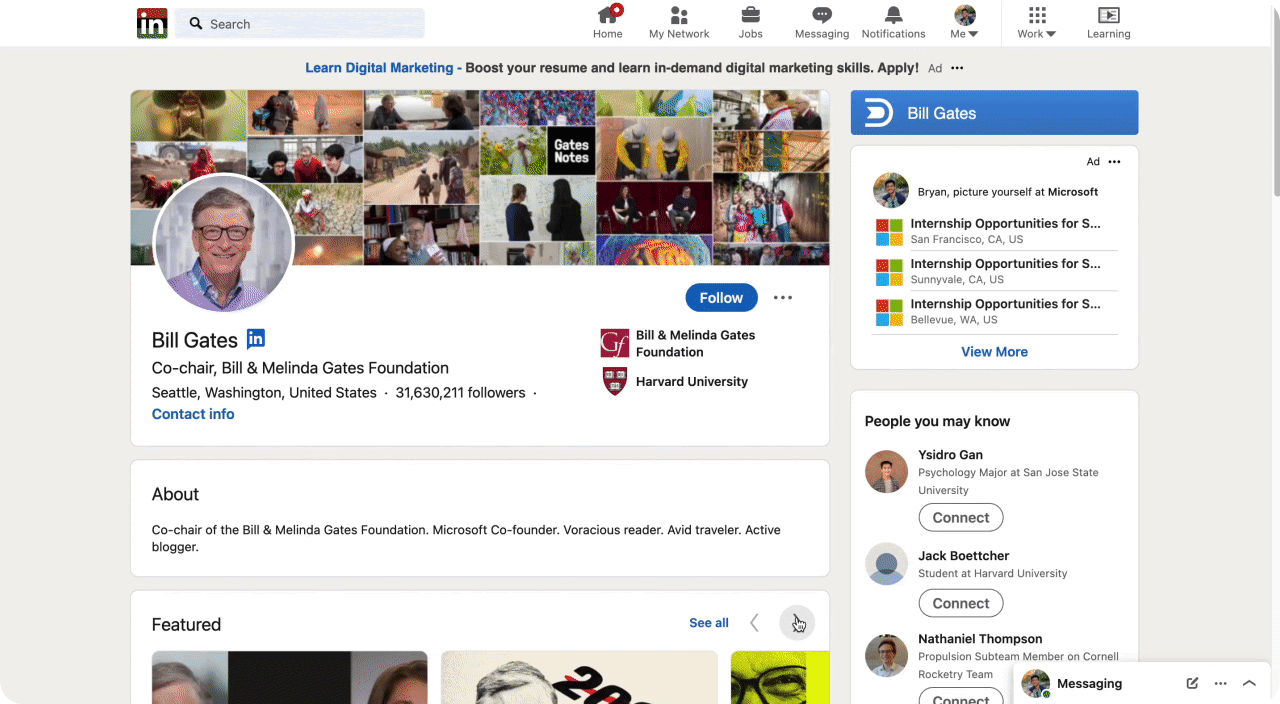 After downloading the Chrome extension, a dedicated button for Dex shows up on social media profile pages. This button allows you to quickly and easily add people into Dex. Other tools like Notion or even specific CRMs such as UpHabit lack this feature, which means you have to remember to open a new tool to add information.
Calendar Sync
Another important feature Dex has is the ability to link multiple Google Calendars to their Dex account.  This integration then updates last interactions with contacts easily and in real-time.
When you use services such as Airtable, you have to look back and forth between your calendar and your CRM (or worse, copy-and-paste data) to have one source of truth for your contacts. Dex removes this difficulty and makes it easier to see everything in one place.
Cost Comparison: Airtable vs Dex
Airtable has a Free, Plus ($12/mo), and Pro ($24/mo) plan for its users. The Plus and Pro plans include additional features such as increased file size limits, greater storage capacity, calendar customization (the free plan imposes limits on workspaces and restricts revision history timeline).
Dex has a Free plan that includes unlimited contacts, mobile/desktop functionality, social media imports and integrations. With the Premium ($9/mo) plan, you get unlimited reminders, keep-in-touch, and contacts, as well as calendar integration and contact sync.
Conclusion
At the end of the day, the right choice between Airtable and Dex depends on your needs.
Airtable is a robust and versatile data tool which excels at planning and project management. Dex is a purpose-built personal CRM that focused on making it easier to build stronger relationships.
If you don't need the flexibility of Airtable, it's likely Dex is a better choice with it's Browser Extension, dedicated mobile experience, and relevant integrations.
Dex's future product roadmap is all centered around the goal to helping you build stronger relationships. Get started today by downloading our Browser extension or mobile apps.